The SuperTooth Buddy is a Bluetooth speakerphone that is perfect for your car. Enjoy a Wireless connection on your mobile device with the SuperTooth Buddy and make calls while you are travelling! Listed below are a few key points to consider when buying this device
Great functionality
Easy installation
It is equipped with a magnetic clip, you can attach the SuperTooth Buddy to the sun visor in your car. There is a strong magnet on the back to ensure that it stays in place so you won´t have to worry about it falling out of place!
Easy to use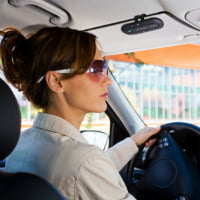 Simple buttons to choose between the options.
Multi-function buttons allowing you to answer/end/reject calls, voice dial and redial
Adjust the volume
On/off button
Bluetooth/Charge indicator
Simple pairing of devices
Turn Bluetooth function on on your device, making sure that it is available
Press On/Off button until the Bluetooth indicator blinks red/blue on the SuperTooth Buddy kit
On your device, select ST BUDDY
If a password is required, enter 0000 and press OK to connect the devices
Design
Refined
This product has an elegant and sleek finish. It is thin, narrow and compact making it a perfect choice for your car!
Large buttons
It has large buttons with pictures to ensure easy and safe use while on the go.
USB port
The USB port allows you to charge this speaker normally via USB or by using a car charger on the go.
Functions
Multi-point
You can connect more than one device simultaneously meaning that you don´t have to keep switching between devices. This is particularly useful if you have both a personal and professional phone.
Automatic connection
If you have paired the device before, the software installed in the device automatically reconnects to your mobile device. It detects your phone when close and connects it without the need to connect it again manually.
Battery life
It has a very impressive working battery life of 20 hours and 1000 hours when in stand-by. This means that you don´t have to worry about running out of power.
Excellent audio quality
Audio enhancing technology
The Supertooth Buddy has noise reduction and echo cancellation DSP technology installed as well as software that absorbs vibrations. This allows for high quality audio performance.
Important features
Talk time: 20 hours
Stand-by time: 1000 hours
Bluetooth version 2.1
Operating range: 10 meters
Frequency : 2.4 GHz
Last call redial
Automatic pairing
Full-Duplex audio
A2DP and Multipoint technology
DSP technology
---
If you are interested in this product, please visit our website!
NEED EXPERT ADVICE?
Call us with your questions
0333 123 3050