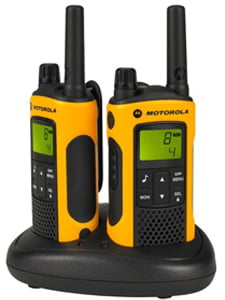 Introducing the Motorola T80 Extreme, the latest addition to the Motorola two-way radios selection. This release from the renowned and trustworthy communication giant certainly ticks all the boxes. This product is without doubt one of the only license free devices on the market rivalling the specification of a licensed radio.
They are ideal for group outdoor activities due to the simplistic, robust and weatherproof design and can be used in a range of hazardous environments.
Packaged in a convenient carry case, the standard twin pack comes equipped with 2 belt clips, 2 rechargeable NiMH batteries, a dual charging dock and 2 ear pieces.
Motorola TLKR T80 features
One of the most impressive features is undoubtedly the range of the TLKR T80 Extreme, which can reach up to 10km in the right conditions – this is a remarkable figure taking into consideration that this is a license-free device. It uses NiMH batteries; these recharge quickly and provide you with up to 16 hours talk time. Its functionality is certainly worth mentioning; the backlit LCD screen provides flawless clarity, while the brightly coloured casing makes the product easy to find in long grass or snow. It is compact and fits comfortably into any pouch, weighing in at only 140 grams.
The product also comes with a one-year warranty; however, taking into consideration its durable casing, this is more of a superfluous addition.
The beauty of the Motorola T80 Extreme is its flexibility for use in a whole host of different situations. Its great range of features allow use both inside and outside in either wet or dry conditions.
Why you'll love it?
8 channels with 38 sub-channels
Water resistant
Back-lit LCD display
Durable and weatherproof design
Overall, the Motorola TLKR T80 Extreme is much more than simply a one-dimensional two-way radio; its high-quality specification makes it the ideal product to use in a variety of environments.
Whether for professional or personal use, this latest variation of Motorola two-way radios is a sound investment for your needs.