Working in a busy business environment, regular interaction with colleagues, clients or external partners is vital; however, it can be difficult to schedule time for face-to-face meetings. However, technological advances have rendered this a problem of the past. Audio conference phones provide a communication solution for companies of all sizes by offering a time-saving alternative to traditional meetings and therefore increasing cost effectiveness. Consequently, our experts have compiled a list of the products which would best serve your business needs.
The Polycom Soundstation Duo is a dual-mode conference phone, which signifies that it can operate using analogue and IP lines. The Soundstation provides fabulous sound quality and a large backlit display, while the ability to add expansion microphones to the system demonstrates its versatility; consequently, it is one of the finest products on the market. The combination of Polycom HD Voice technology with multi-language support and full-duplex audio ensure its status as a business essential.
Why you'll love it:
Dual mode conference phone – analogue and IP
Polycom HD Voice technology
Multi-language support
Expansion microphones allow calls with up to 20 participants
The Konftel 300 is one of the more versatile conference phone systems on the market. It can connect to an analogue phone line, a PC or a mobile phone. With three powerful omnidirectional microphones and OmniSound 2.0® technology in addition to an elegant design, the Konftel 300 is the perfect business solution for audio conferencing.
Why you'll love it:
Expandable with additional microphones
Connectivity to analogue phones, PCs and mobiles
Uses OmniSound 2.0® technology
Record your meetings with an SD memory card
The Polycom Soundstation IP 5000 offers unrivalled quality in professional conference calls. It is powered by PoE, but a mains power supply is also available (sold separately). HD Voice technology ensures crystal clear conversation, thus reducing fatigue and improving productivity. The 360° microphone allows everyone to be heard while speaking normally (up to 2m away). Additionally, the interactive LCD display provides a user-friendly interface.
Why you'll love it:
HD Voice technology – increased productivity
Microphone pickup range of 2m
Power over Ethernet (also with option to add power supply)
Backlit LED display
Jabra Speak 510 Portable Bluetooth Speakerphone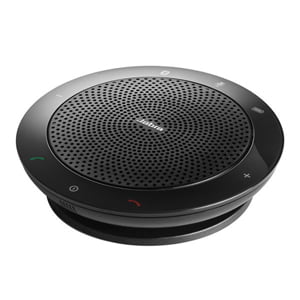 The Jabra Speak 510 instantly turns any surrounding into a conference room; due to Bluetooth connection and easy setup, you can always stay in touch whilst working. You needn't worry about your battery running out midway through a call, as the Speak 510 provides up to 15 hours of talk time, in addition to its omnidirectional microphone; these features, combined with Bluetooth Class 1 technology (allowing range of up to 100m), hence make the Jabra Speak 510 a clear leader in the portable audio conferencing market.
Why you'll love it:
Portable: compact and comes with carry case
Plug and Play USB installation
Crystal clear sound – incorporates DSP
Bluetooth Class 1 connectivity