What is Skype for Business?
Skype for business is a useful tool that allows you to keep in contact with your employees and business partners anytime, anywhere. Thanks to its many features, you can communicate using conference phones via message, voice call and video call. This service is frequently and most popularly used among businesses to hold meetings and to give presentations. It also allows you to broadcast online to a wider audience. In essence, this useful tool has the potential to contribute to the growth of your business. Below, you can find a list of features, benefits and recommendations for conferencing using Skype for Business.
Features
Skype for Business has many features, all of which can help you improve the way your business communicates. Below is a list of common features that can have a positive impact on your business.
Make and receive calls wherever you are
Collaborate with co-workers and employees and also create groups for different teams in your business
Share files with employees and co-workers
Use Skype video for meetings and presentations
Connect with up to 250 people using multiple devices
Broadcast your meetings online for up to 10,000 others
Record your meetings and presentations
Access calendar, reminders and other features
Pair Skype with OneNote
Share files with employees and co-workers
How can it benefit you and your business?
Communicate with your whole team at the click of a button: With easy-to-use features, the whole team will be able to use Skype for Business without any problems. Send and receive instant messages, voice calls and video calls. The whole business stays connected at all times, thus improving productivity and results.
Use conferencinging to hold meetings and presentations: This ensures that you can stay connected anytime, no matter where you are. Additionally, it enables you to reduce travel costs and take advantage of time more efficiently.
Improve communication and understanding with Skype video: Employees stay focused and work coherently on projects.
Broadcast function: Limit the settings to members only or open access to a wider audience. Furthermore, these broadcasts, meetings and presentations can be recorded, so that you will not miss any vital information.
Organizational features: Ensure that everyone can keep on top of their schedule, tasks and deadlines with the reminder and calendar functions.
Recommended Conference Phones for Skype for Business
The Polycom RealPresence Trio 8800 is the first smart hub for conferencing, as it transforms into a voice, video and content sharing system that fits into any large or small environment. It is specifically optimised for use with Microsoft Lync.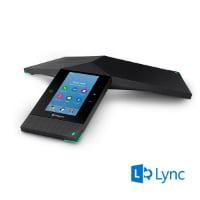 Three point conference phone
Optimised for Microsoft Lync
Range of 6 metres
The Konftel 300Wx is a versatile wireless conference phone that is ideal for growing businesses. Furthermore, it is even adaptable to different connectivity options in a changing and expanding workplace, along with diverse conferencing possibilities in rooms of up to 30m².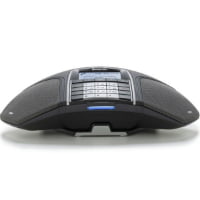 Conference phone for wireless meetings via DECT, VoIP or mobile connection
Up to 60 hours of talk time (works with rechargeable battery)
Supports expansion microphones for larger meetings
The Konftel 55WX Wireless Conference Phone is a compact phone conference with high-resolution touch screen, and therefore provides an impressive clear sound.  Additionally, it connects easily to a PC (VoIP), IP or analog phones (with an optional switch) or a mobile phone (optional cable or Bluetooth).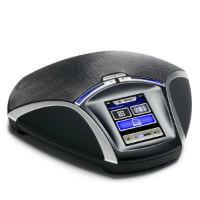 Telephone conference call with Bluetooth wireless connection
NFC for quick and easy synchronization
Wireless IP phone or analog phone (with optional adapter)
In summary, watch this video to find out more about how your business can benefit from using Skype for Business:
NEED EXPERT ADVICE?
Call us with your questions
0333 123 3050
---
For more information about conferencing, please visit our website