Meet the new EPOS EXPAND Vision 3T – All-in-one video collaboration and reinvent your meetings!
Enhance collaboration with full HD video and exceptional voice pickup and noise cancellation. All-in-one video collaboration solution for today's smart office. Join meetings with just one touch and enjoy a full Microsoft Teams experience.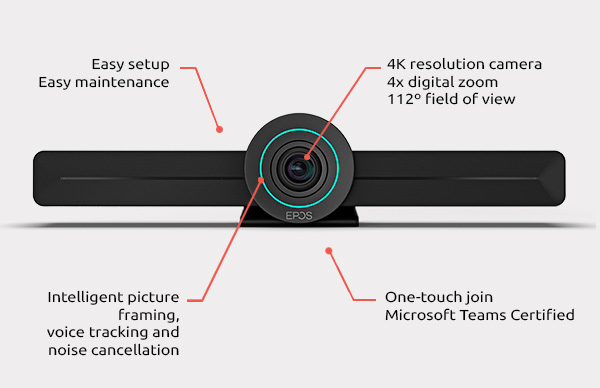 The EXPAND Vision 3 Video Bar from EPOS is a modern and high-performance product that will ensure authentic virtual meetings. In other words, this is a device that will allow you to look your best in all circumstances. The camera features 4K resolution, 4x digital zoom and a wide 112° field of view to include all participants in the frame. It also features EPOS AI technology, a system that automatically adjusts the viewing angle based on the number of people in the room.
One-touch join and Microsoft Teams Certified
Enjoy an intuitive user experience, this All-in-one solution is ready when you are. No PC needed. One-touch, and you're in. Certified for Microsoft Teams you will immerse yourself in your meetings with all the familiar & fully integrated features.
Empower your meeting room
This all-in-one video bar from EPOS is designed for small meeting rooms of up to 8 people. The SP30T portable speakerphone is also designed for use in small meeting rooms. If you want to equip a large meeting room, we recommend combining this EPOS EXPAND Vision 3 video bar with a more powerful portable loudspeaker, specially designed for large workspaces: the EXPAND 80 Teams. In addition, this video bar is provided with a portable speakerphone – the Sennheiser SP30T – to enhance the sound quality of your exchanges. Thanks to its two omnidirectional microphones with 360° coverage and echo cancellation, you are sure to hear and be heard clearly by your interlocutors throughout the conversation.
For an easy collaboration: Set it up in just a few minutes
Finally, you don't have to be a technology expert to set up your video conferencing solution. It only takes a few minutes to set up this Plug & Play solution. Simply connect the video bar to the meeting room screen via HDMI and the speakerphone to the camera via USB or Bluetooth to start conversations.
#videoconferencing #PowerOfAudio #MSTeamsCertified #EPOS #EXPANDVISION3T #VideoCollaborationReinvented #OneTouchJoin #hybridwork