Phoenix Spider review
Introducing the Phoenix Spider Conference phone: the latest arrival in the world of conferencing. But why is it different, and why should you consider it for your business's conference rooms?
Unmatched versatility
The Spider conference phone range consist of 3 models that can connect to different telephony platforms, allowing you to conference however you like. Whether you have analogue or IP lines, the Spider will fulfil all your needs.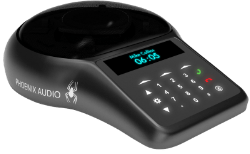 The MT505 – connection via USB and SIP telephony via Ethernet. This conference phone can support both video and audio conferencing as well as a three-way bridge between both the SIP and USB connections.
The MT502 – connection via USB and standard analogue line.  This model is compatible with any standard analogue phone and like its IP counterpart, supports video and audio conferencing as well as three-way calls between both interfaces.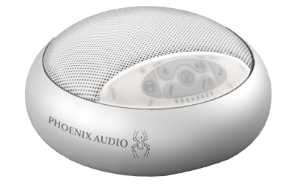 The MT503 (aka the Smart Spider) – is a speakerphone that connects via USB to any computer or with an analogue cable to any smartphone or tablet. The Smart Spider comes in Black or White.
Unparalleled daisy chaining capabilities
What makes the Spider stand out from other conferencing systems on the market is its ability to connect up to 14 secondary devices. Through a daisy-chain system they can facilitate the transmission of sound in any sized room, with 15 Spider devices you can cover up to 450 Sq. ft.
You can control the entire system from any unit which means there is control throughout the conferencing table; you can mute, pick up or hang up a call or adjust the volume from any device.
Crystal Clear Audio Performance
The four microphone beamforming array has 360⁰ coverage, meaning that no sound will be lost. Being equipped with echo-cancelling, noise-cancelling and de-reverb algorithms, the Spider only delivers exceptional audio. When tested, the audio quality remained consistent while walking around a conference room using two Spider units.
All Spider models are compatible with cloud conferencing apps such as Skype for Business which is essential for many businesses. The state of the art audio that the Spider models feature is a booster for professionalism and is key to a faultless conference calls.
Verdict
The Spider conference phones deliver top class performance accompanied by unmatched versatility to make them the perfect audio device for organisations.  If you need powerful and long-range audio then the Phoenix Spider is your solution. On today's market, it's intelligence as a conferencing system is unparalleled.
Phoenix Spider overview:
If you have any more questions then give our team of experts a call on 0333 123 3050. Or visit our website onedirect.co.uk