Conquer every room!
Introducing the Sennheiser TeamConnect Wireless Series, a conference system perfect for online meetings. The modern design perfectly matches any work environment and will be sure to make your workspace look more elegant. Equipped with outstanding features and advanced technology, this would be a great investment for any business.
Why you´ll love it
Designed to make unified communications more efficient.
Easy installation and use

 
Whether you are looking to host a small or large conference, the TeamConnect Wireless Series will have you covered. You can instantly host professional online meetings with up to 12 to 24 participants from any room. Easy installation and use will allow you to enjoy hassle free conferencing! Remove the master and satellite units from the charging dock and relax whilst they automatically connect to one another, forming the highest quality DECT connection.
Suitable for dedicated or flexible meeting rooms
There are three different versions of the TeamConnect wireless, so you can select a system tailored to your needs. Suitable for dedicated or flexible meeting rooms, regardless of table arrangements and room size. The multi functional storage solution also serves as a charging dock, ensuring your device is always charged so you can instantly start conferencing . This is a practical solution for business users who travel from room-to-room to conduct conferences.
Supports multiple simultaneous audio channels
You can quickly connect any laptop or smart device wirelesely through Blueooth or via USB / 3.5mm jack wired connections, whichever is your personal preference. The TeamConnect series supports multiple simultaneous audio channels, you can add callers to an ongoing meeting at ease.
Excellent sound quality
The high quality microphone and loudspeakers allow natural conversations whilst delivering the best speech intelligibility. The system will detect and transmit the voices of up to 24 participants with excellent sound quality so there will be little confusion when conferencing!
Sennheiser TeamConnect Wireless Series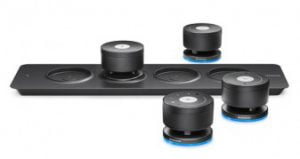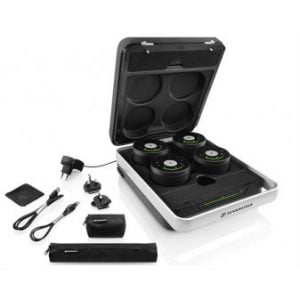 Features
Portable and instant conference system
Connection of multiple audio channels simultaneously
Add partners with ease
Connection via Bluetooth, NFC, cable, connector or USB.
High sound quality
---
NEED EXPERT ADVICE?


Call us with your questions
0333 123 3050