Audio and video conferencing equipment has established itself as an essential collaboration tool over the past number of years. Considering the recent Covid-19 pandemic, their role in both work and personal settings has grown drastically.
There is a vast range of collaboration equipment available on the market today. From all-in-one audio-visual conferencing solutions to room management systems, there is something to suit every situation.
As experts in the communications field, we have compiled some helpful information to better understand these devices.
AUDIO AND VIDEO CONFERENCING EQUIPMENT
Speakerphones & conference microphones: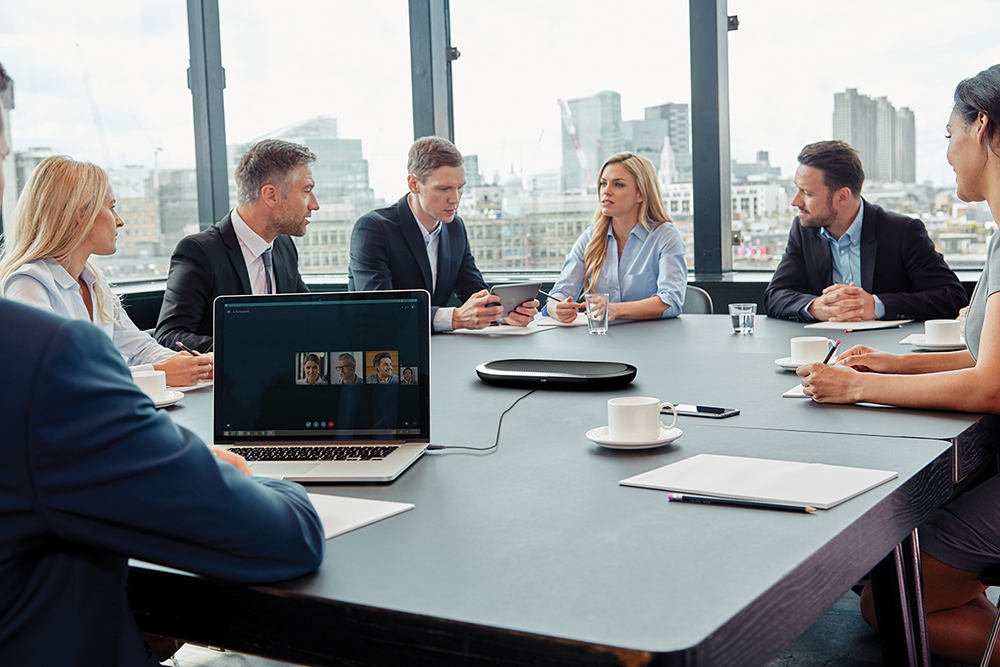 A speakerphone is a device that simultaneously uses a microphone and speaker to communicate without need for a headset.
When making calls, the sound is not always optimal. For example, the sound of your PC goes through the built-in screen speakers, which is inefficient. With the speakerphone, you have a dedicated sound device for your calls and/or music.
Plug&Play– the easy-use solution: Simply connect your speakerphone/microphone to your computer or smartphone to make calls (via Bluetooth, USB or jack depending on the model)
Browse our vast range of speakerphones and conference microphones here:
Audio conferencing & conference phones: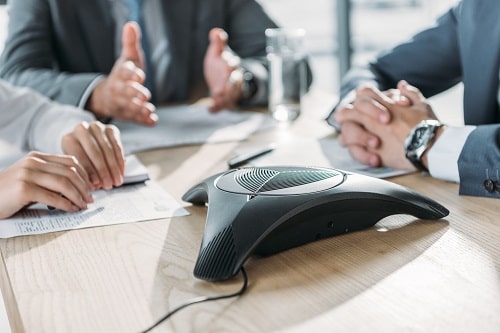 Audio conferencing allows several people in one room to hear and speak during a telephone conversation
You can use conference telephones in meeting rooms as well as individual offices. Their investment pays off thanks to the numerous in-person business meetings that can be avoided.
The number of participants determines the necessary size for your conference phone. For small meeting rooms (maximum 4 participants), opt for simple models. For larger rooms (20+ participants), choose a more sophisticated model that has powerful speakers and optional connection to additional microphones.
Shop our wide range of conference phones here:
Document sharing- Visualisers: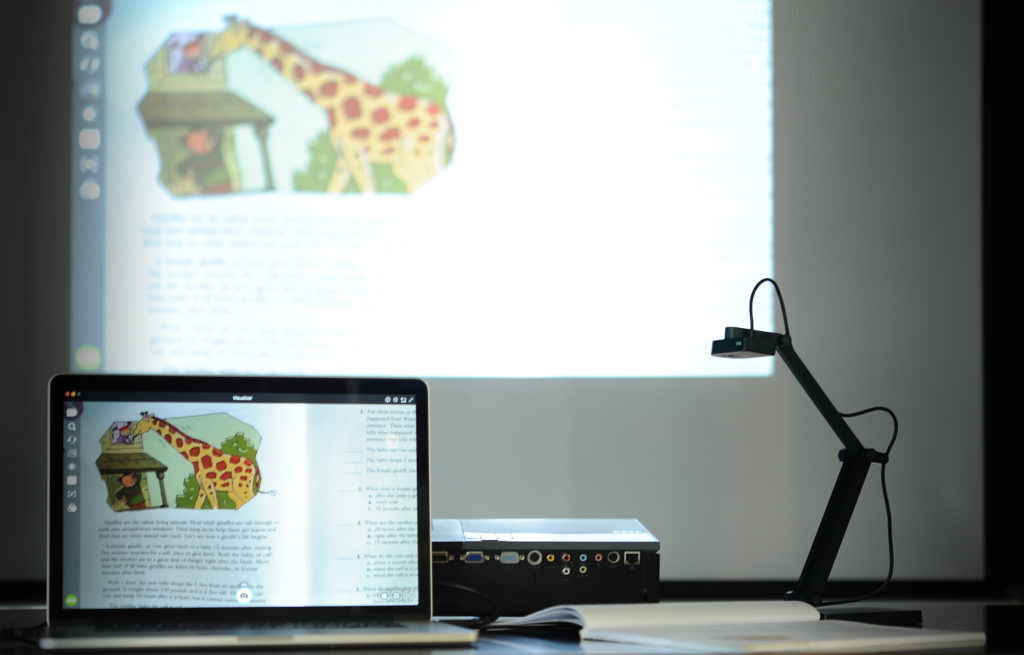 The visualiser is a very practical digital projection tool. It allows you to display any type of physical document on a computer, an interactive whiteboard or an interactive screen.
Thanks to its camera, it captures and transmits live objects, photos, excerpts from newspapers and books etc. Sometimes, non-digital resources are used, making this collaborative equipment very popular. You can project different materials on a large screen, allowing everyone in the room to be engaged and involved.
View our large range of document cameras here:
Room management and booking solutions: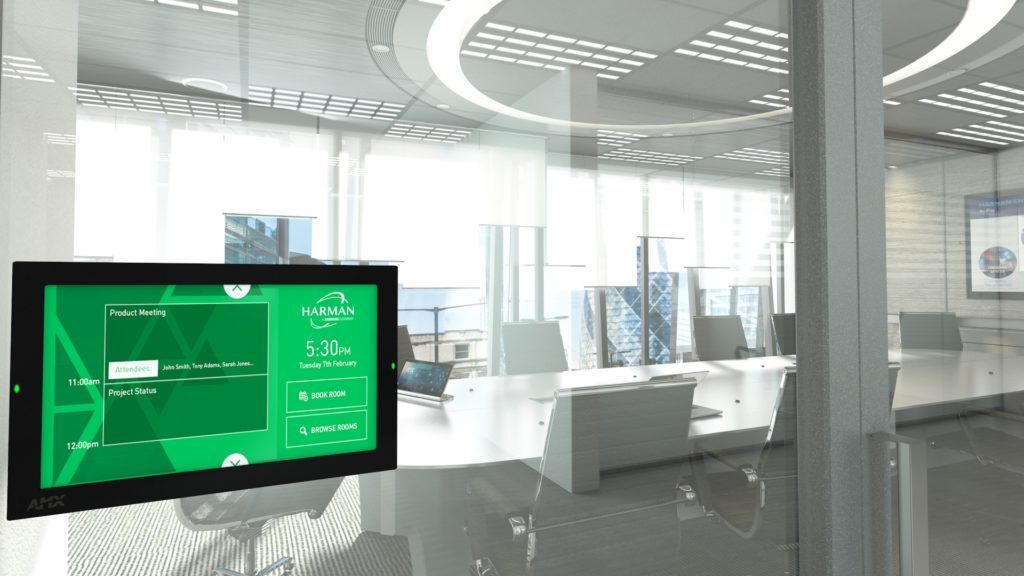 A room reservation system takes the form of a small electronic display. Placed at the entrance of your meeting room, the time and purpose of the meeting is displayed.
With a touch screen and network access, it becomes an interactive terminal. Easily change the data displayed without returning to your desk or schedule a meeting on the fly by updating the schedule!
More than just a screen, this solution integrates a messaging and diary system (Outlook, Notes etc). These clever features allow employees to coordinate their activities and prevent overlaps or double bookings.
Find a room management system to fit your needs here:
Wireless collaboration equipment for your presentations: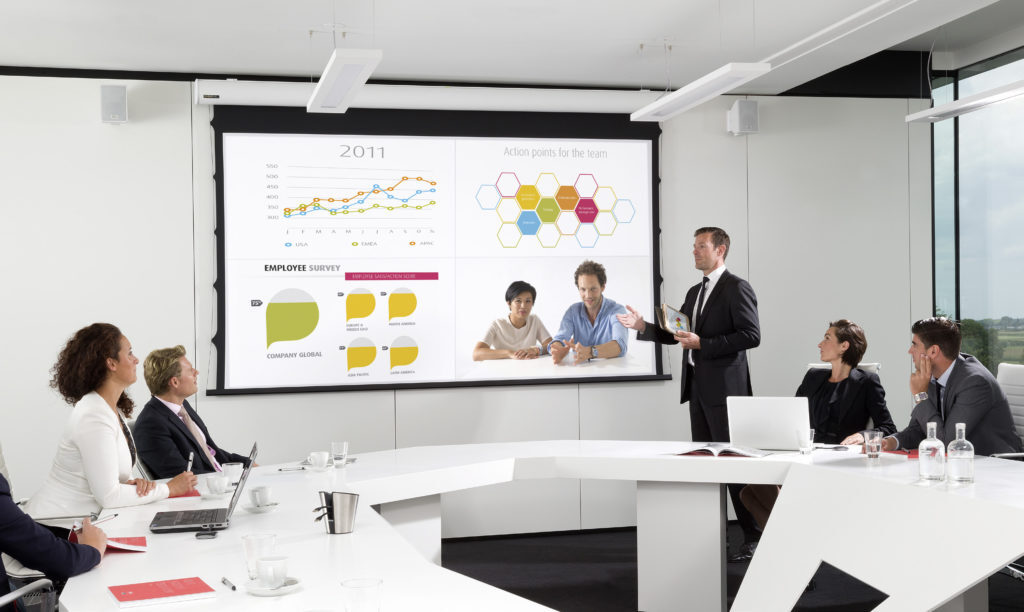 A wireless presentation system is a device that allows one or more users to stream multimedia content from a PC, tablet or smartphone to a large screen. Thankfylly, there is no annoying wires involved, it makes presentating seamless and hassle free.
It is suitable for a variety of a collaborative environments, such as meeting rooms, conference rooms and classrooms. It is highly interactive and works with virtually any screen or projector. In addition, multiple users can access the system simultaneously for a simple, effiecient and user-friendly presentation.
Take a look at some of our recommendations here: