Olympus WS-852: what's our verdict on this digital voice recorder?
Beginner or advanced? Different modes to suit all
Whether you are a real tech whizz or a bit clueless, this device has different modes to suit you. There is the choice between simple and normal mode, and even an additional intelligent auto mode. This adjusts the recording level automatically for a more even volume and accurate recording. This makes this device great for if it needs to be used for multiple users, who may be at different ability levels.
Directional microphones: narrower pick up pattern but free of unwanted interference
The WS-852 has two built-in directional stereo microphones, but what does this mean? Directional microphones, as opposed to omni-directional, have a narrower pick up pattern. When combined with the recorder's low cut-filter this creates and all-round even and clear sound, free of unwanted interference.
Therefore recording a meeting with multiple sound sources, a voice recorder with an omni-directional microphone would be better. However, when recording sound from one or two directions then directional microphones give a better quality sound as they cut out any unwanted background noise and interference. Hence, for example, this device would be ideal for recording interviews or conversations.
(Learn more about types of microphone with our article: Dictaphones and Call Recorders Buying Guide.)
Designed with convenience in mind
The WS-852 performs in such a way that requires minimal effort from the user. It has a retractable USB for easy data transfer to a computer and records in the popular MP3 format. It is compatible with both Windows Vista/7/8/8.1 or MAC OS X 10.5-10.9 operating systems. And as well as the 4GB of internal memory, you can very easily add an SD card for additional storage. And if all this wasn't enough, it is powered by batteries that come included too!
For cutting to the chase: Just record and re-listen to exactly what you want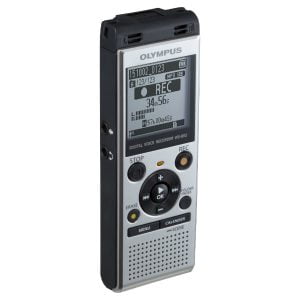 When listening back to your recordings for recap or transcription, there's nothing that's more annoying than background noise or 'dead air' getting in the way. That's why Olympus have built in a VCVA Voice Sync function that means that recording starts and stops according to a pre-set sound level – that is determined by you. Therefore your recordings aren't full of irritating silences and you don't use up valuable storage space.
What if you want to listen back to a specific section of your recording and don't want to have to listen to extra and redundant info? For this there is the forward/reverse and fast forward/rewind functions allow you to decide exactly what you listen to.
Recording without limits!
The impressive 110 hours of battery life and extensive storage capacity of the WS-853 enable you to record without being restricted. It can store up to 65 hours of recording at radio-quality 128kbps or up to 1040 hours at 8kbps. You can store up to   200 files per folder in up to five folders.
Visit our website at www.onedirect.co.uk or call us if you have any queries for expert advice, on 0333 123 3050!