Best Bluetooth Headsets
Want to know about the best bluetooth headsets on the market? Here is Onedirect's Top 10. We have arranged them by brand and highlighed their best features.
Jabra Bluetooth Headsets
This monaural bluetooth headset has up to 30m range and a noise-cancelling microphone, meaning you can be mobile and alert without losing call quality.
It offers noise-cancelling feature = conversation clarity
It´s versatile – high quality calls and music streaming
It has a 10 hour battery life
The Jabra Evolve 65 is also available as a DUO headset
It is lightweight and pairs instantly just by touching the two devices together. The design is modern with a retractable microphone
Bluetooth class 1 connectivity = up to 100m range
Intuitive call control
Smart Sensor technology – answer a call simply by putting the headset on
The Jabra Motion is also available as a UC Headset.
As much a personal asset to your life as a professional one, the Jabra Stealth enables high quality communication as well as music streaming. It can be worn over either ear and comes with 3 different ear gel sizes.
Noise Blackout technology: high definition sound and noise cancellation
Mobile range of 10m, PC 30m
Discreet and lightweight
---
Plantronics Bluetooth Headsets
The Voyager Edge lets you pick up calls simply by saying "answer" or it detects through sensors when you put it on. The audio is enhanced by noise-cancelling technology and automatically adjusting volume levels.
Up to 16 hours talk-time
Voice commands and sensors
P2i Nano-coating that repels moisture
The Voyager Edge is also available in BLACK.
The Explorer 50combines a small, subtle design with some of the most up-to-date Bluetooth and Multipoint technology
Up to 11 hours talk time plus easy, fast charging
Multipoint technology
Voice-activated dialling feature for ultimate hands-free experience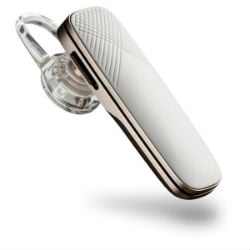 The Explorer 500 comes with a handy magnetic USB charging strap that can be looped and reachable. It is incredibly feature-forward with maximum comfort given the contour-hugging silicone ear tip.
HD sound and noise-cancelling microphones
Multipoint technology
Energy efficient
The Explorer 500 is also available in BLACK.
A truly intelligent headset with insurpassable voice clarity that lets your voice take care of everything.
Noise-cancelling microphones with Windsmart technology for crystal clear conversations
Intuitive headset
Announces caller ID to which you can accept or reject with speech
The Voyager Legend is also available as a UC and a LYNC OPTIMISED model.
---
Sennheiser Bluetooth Headsets
This lightweight, slim headset comes with multipoint technology and only takes 80 minutes to charge fully.
Enhanced voice tones, background noises and echoes eliminated
Voice prompt status updates
HD voice and sound
The EZX70 is also available as a UC Model.
Professional 1-ear headset with comfortable headband that comes with different settings for calls and music. It can pair with up to 2 mobiles simultaneously and can charge via USB.
Up to 15 hours talktime
ActiveGard acoustic protection
Exceptional sound quality
The MB Pro 1 is also available in a PACK WITH STAND.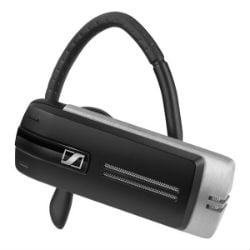 This little headset has up to 10 hours call time along with its advanced technology and enhanced audio.
WindSafe and ActiveGard technology
Real-time battery monitoring
Unique SpeakFocus technology for optimised speech clarity
---
For further guidance and information, download our headset buying guide. Click to view our full range of Bluetooth headsets.