What is it and what can I use it for?
A headset amplifier (or headset amp) is one way of connecting a headset to a telephone. Telephones that are not "handset ready" – aka don't have a dedicated headset jack – require a phone headset amp. They are also used simply to boost the volume of your headset if your original devices simply aren't powerful enough. For example if the connection and power is through a 3.5mm audio jack is not enough to fully drive the speakers you'll find them quiet.
If you work in a busy office or are hard of hearing it can be difficult to hear the person on the other end of the line. Headset amps work together with your headset to increase the clarity of your phone calls, regardless of what it going on around you.
Amplifier or quick connect cable?
Telephones that are not "handset ready" can connect to handsets via headset amplifiers or quick connect cables. The quick connect adaptor cables are mainly used for cordless telephones with a 2.5mm jack. The disadvantage of an adaptor cable, however, is that you rely on your telephone's volume power. This can potentially result in low mic volume because the connections are weak. Thus the big advantage of a headset amp is that it doesn't just rely on the phone: it usually comes with batteries and has an independent adjustable volume control for the earphones as well as microphone.
Amplifier benefits
Headset amps are beneficial if you are disappointed with the audio quality of your device. Some devices simply don't provide the power required to drive high-end equipment. If you want to avoid spending a lot of money on a new headset, purchasing an amp instead can solve the problem of low audio quality. Clearer exchanges can increase your productivity given that better quality of sound can transform your conversations.
---
Our recommendations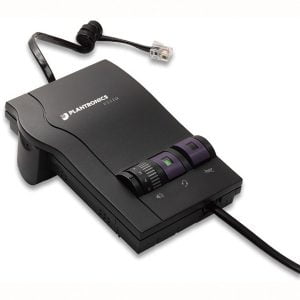 Plantronics M22 Vista Amplifier
This amplifier is compatible with almost all telephones and has volume controls for the microphone and earpiece, as well as a mute function. This device also comes with a 3m coil cord, giving you more freedom of movement
Switch easily between handset and headset
Wideband audio with reduced echo
Acoustic protection against sudden loud noises
Volume control for microphone and headset
2x AA batteries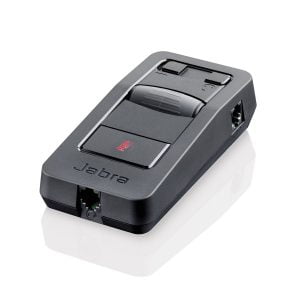 Jabra Link 850 Amplifier
The Jabra Link 85o features DSP technology which offers crystal clear sound quality and echo reduction. It is widely compatible as well as featuring superior sound and acoustic protection.
For telephones and PCs
Compatible with Skype, Skype for Business etc.
USB or mains charging
Tone control equaliser
Noise-cancelling technology
For more information call our team of experts on 0333 123 3050 or visit our full range of products at onedirect.co.uk