Working a noisy work environment can put strain on you, especially when taking and making calls. That's why it's important you have the best equipment to do the job. Noise-cancelling headsets are a great choice for office workers, because getting the most out of calls depends on you being able to have clear, distraction free conversations. This type of headset means you can start making calls without the panic of 'will they hear me?' and 'will I hear them?'
Will they hear me?
If you're worried about customers being able to hear you crystal clear, you should invest in a headset with a noise-cancelling microphone. A noise-cancelling microphone filters out noise around you, in order to make your side of the call clearer. For example, if you're on a call, and some coworkers are chatting away behind your desk, the microphone will filter out their conversation, so that you are what the customer hears. Some headsets also have protection which prevents your breathing from being particularly audible on calls, which can make the extra positive difference on call quality.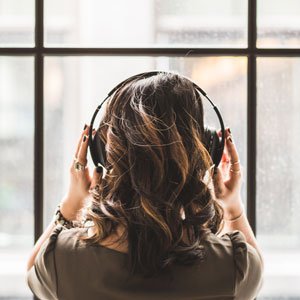 Will you hear them?
It's important that you're able to focus on your customers while on calls. Noise-cancelling headsets are designed to deliver clear, uninterrupted audio and are equipped with either active or passive noise-cancellation. Active noise-cancellation actively counters low-frequency background noise, in order to make sure that you only hear your call. Passive noise cancellation is where background noise is blocked out by the physical design of the headset.
Will I be able to use my headset with other devices?
Something else that you need to take into account when purchasing a noise-cancelling headset, is whether it will work with existing equipment. There are a lot of different connection types which can make choosing a headset difficult.
Nowadays, it's easier for you to find the right headset for any device. Most headsets come in different versions, for example, with a 3.5mm jack, USB connection or with Quick Disconnect (QD). You could also choose a DECT or Bluetooth headset, if you're looking for something more mobile in the office. If you're not sure which headset will be compatible with your existing equipment, you can give our experts a call for a compatibility check.
Onedirect recommendations for noise-cancelling office headsets

Plantronics CS520 
The CS520 is a binaural headset with soft leatherette ear cushions. It's design will help to keep out most office noise that might distract you from calls. Like the Plantronics Encore Pro series, the CS520 has a built-in noise-cancelling microphone, to make sure that you're heard clearly. It has a talk time of up to 9 hours, and coupled with it's wireless design, this makes it the perfect choice for someone who spents time up and about in the office.
Available versions: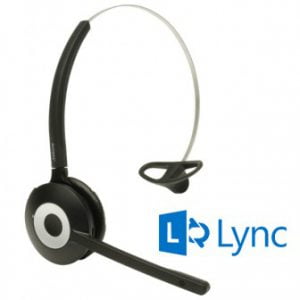 Jabra Pro 930
The Pro 930 comes in quite a range of options to help you find something to suit your needs. First of all, it features crystal clear wideband audio and a 8 hours talk time, as a result you can get the most of your day. The Jabra Safe Tone protects you against sudden noises and acoustic shock, which also makes sure that the headset maintains a comfortable volume. It also features a noise-cancelling microphone, in order to make sure that you are heard. Jabra headsets are some of our best sellers, you'll receive high quality for a reasonable price.
Available versions: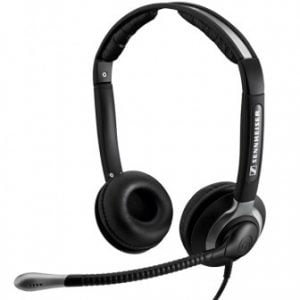 Sennheiser CC550
Onedirect consider the Sennheiser as one of the top audio brands, and the CC550 is no exception to this rule. You can benefit from high quality audio, a noise-cancelling microphone, in addition to ActiveGard technology which protects you from acoustic shock and sound surges. If you're looking for something extra comfortable for intensive wear, this ticks the boxes. You can enjoy day-long comfort from extra large ear pads and a generously padded headband, which help evenly distribute pressure.
Available versions: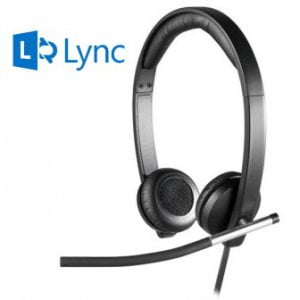 Logitech H650E
This headset is one of the more modern products from Logitech. It comes in mono and duo wearing styles, which helps you if you need a headset which allows you to converse with other employees without taking the headset off. You'll definitely be comfortable if you choose this headset, due to the lightweight, cushioned design. In addition, the noise-cancelling unidirectional microphone lets you focus on your call while blocking out background noise and distraction.
Available versions: