Sennheiser is a brand that is world-renowned for its quality, design, and functionality, with their headsets featuring prominently in offices across the globe. Their popularity is not down to chance. Whatever your requirements, whether that be corded, cordless, Bluetooth, or DECT, we have a range of Sennheiser headsets for you here at Onedirect.
Here we will show you our top picks: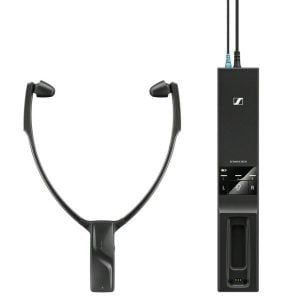 This Cordless headset is made specifically for TV use and features different hearing profiles. You can customise your sound experience and speech intelligibility to suit your individual needs whether it be TV, Movies, or Music. Also featuring an automatic switch off function, this headset is more energy efficient than most.
Freedom of movement up to 70 m

12 hours of operating time

Ultra-lightweight and comfortable to wear

Battery status LED

Adjust volume on the receiver

Three hearing profiles to choose from for better TV and music sound optimisation

Speech intelligibility function
The Sennheiser MB 660 UC Bluetooth Headset is a premium-quality professional headset that adapts to how you work with personalisable settings and multiple connections that allow you to get the most out of your headset and improve productivity.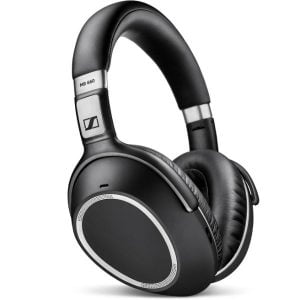 NoiseGard™ hybrid adaptive active noise cancellation

3 digital microphones enhances voice clarity

WindSafe™ technology reduces wind noise in outdoor situations




30 hours talk time

USB cable with micro-USB connector for convenient charging

Foldable design for compact storage
The Sennheiser DW Pro 2 Cordless Headset is a stylish multi-purpose professional headset, which is compatible with 99% of desk phones and softphones – perfect if you have some of your contacts in your phone directory and some in your PC contact list and you need to switch seamlessly between the two.
Cordless headset with two-ear design

Range: up to 180m

Connection: desk phones

Powerful noise cancelling microphone

Flexible microphone for perfect positioning

Binaural design for optimum concentration

ActiveGard: hearing protection up to 85dB

Talk time: 12 hours

Stand by: 4 days

Wideband Sennheiser sound

Conference mode for up to 4 handsets
The Sennheiser Presence UC™ is a premium Bluetooth and UC headset designed for professionals who demand a rich communication experience for themselves and their listeners around the office, in the car and outdoors. Sennheiser voice clarity ensures a clear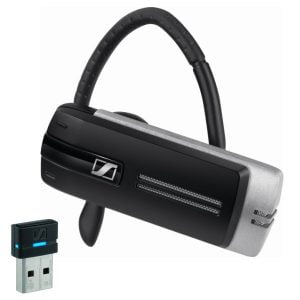 er and more natural audio experience. Sennheiser has a 70 year legacy of sound leadership, and this model incorporates technologies which provides the user with a rich communication experience in noisy environments – both indoors and outdoors.
Headset for mobiles and PC communications

Compatible with all softphone applications

HD sound

3 noise cancelling microphones

Automatic call transfer

Voice alerts, battery status icon on iPhone
The Sennheiser PC 8 USB headset is a great value, convenient binaural PC headset for internet-based calls. With simple Plug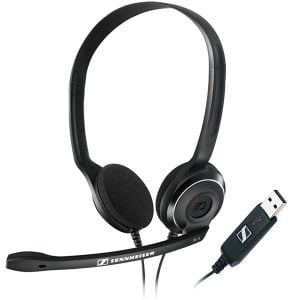 and Play installation via the USB cable, you can connect it to your computer easily and start chatting and calling on the internet (Skype, VoIP-buster etc…) straight away.
Noise cancelling microphone

In-line volume/mute control

Plug and play via USB

Perfect for VoIP communications

Comfortable ear cushions

Excellent voice quality

Adjustable microphone
(Also available in a 10 pack here)
The Sennheiser SC 230 Monaural Headset Refurb is designed for professional use with a focus on call-centre tested durability. Equipped with a noise-cancelling microphone that filters out ambient noise for optimum sound to ensure clear and productive conversations.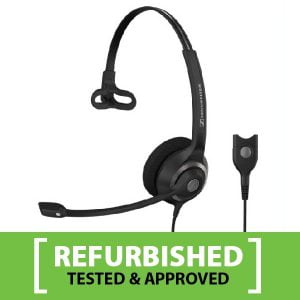 CircleFlex™ technology consists in the ear pad of the headset mounted on a pivot, which allows the foam of the pad to instantly adjust to fit perfectly and comfortably. Thanks to ActiveGard™ technology, sudden noises and acoustic shocks are caught and diminished to protect the user.
Monaural version

360º rotating Bendable Boom Arm microphone

Circleflex™ technology: dual-hinge ear cup for instant perfect fit and supreme comfort

Noise cancelling microphone

Very robust and durable

ActiveGard technology: protection from acoustic shock and sudden noise

Lightweight raised profile headband with numbered grooves
NEED EXPERT ADVICE?




Call us with your questions


0333 123 3050