What is Bluetooth Motorcycle Intercom?
A Bluetooth Motorcycle Intercom can totally transform your communication experience. These devices can be easily installed or attached onto the side of your helmet so there is no need to purchase a new one! With the latest Bluetooth technology, you can connect and communicate with others easily while on your journey. The Bluetooth Motorcycle Intercom will allow you to connect to mobile phone devices, therefore you can listen to music, keep up to date with latest news and take calls without the need to remove your helmet.
Struggling to choose a Bluetooth Motorcycle Intercom? Listed below are a few characteristics you may want to consider when choosing which one to buy.
Range
Range is a big factor in deciding which intercom to purchase. Surroundings, such as buildings, hills and trees, can affect the sound quality and connection of the device. The recommended range amongst a couple of motorcycles is approximately 0.5km. If you normally travel in larger groups, we would recommend a larger range.
Connection
Bluetooth is the technology that connects these devices together. Calling from these motorcycle intercoms works in the same way as a conference call. This means that participants can talk at the same time and everyone can hear the conversation. If you usually ride in groups, the recommendation is to choose a headset that allows 4 riders to connect.
Sound Quality
High sound quality is important, especially if you are in an area with a high level of noise. If this is the case, you will need to consider the volume capacity of the intercom and if the device has noise reduction or noise cancellation software. Additionally, the faster you drive the more noise will be produced and therefore, you will need an intercom with features that prevent this external noise.
Weather
If you often ride in wet or extreme conditions, having a water resistant or waterproof device is essential. Having a intercom with water resistant features gives you the freedom to travel in a range of conditions without restrictions.
Battery life
A long battery life means that you don't have to worry when communicating or using the device on the go.
Our Recommendations:
Single Scala Rider Q1 Bluetooth headset
Voice control for mobile phone calls
Stream music or GPS instructions from your mobile phone
Connect up to 2 devices

Scala Rider Q3 Bluetooth headset for motorcycles
Forms a motorcycle intercom when used in conjunction with another Scala Q3 device
Intercom range of up to 1km
Click-to-Link technology™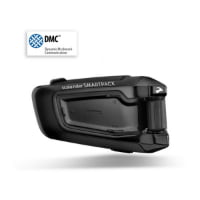 5km Range
4-way Bluetooth Conference Calling
Voice Command
Hot Dial Keys
8km Range
15-way DMC™ Intercom
1:1 Private Chat function
DMC Bridge™
If you would like more information on the best bluetooth motorcycle intercoms, visit our website!
---
For more information on our motorcycle intercom products, please visit our website!
Click here to shop our range of Bluetooth motorcycle intercom products
NEED EXPERT ADVICE?
Call us with your questions
0333 123 3050