Whether you ride your motorbike in solitude as a therapeutic way to clear your head, or if you´re in a big group venturing on a road trip. Cardo motorcycle intercoms are the best way to stay digitally connected and will take your riding experience to new heights.
First on our list, is the Scaler QZ. Priced at just £82.79, it's fantastic value for money. This is ideal for the average motorcyclist who travels alone and wants a basic way to stay connected on the go.
The Scala QZ is a simple yet sleek design, it's controlled by two channels: one that allows you to listen to music or get GPS directions, and the other to talk on your mobile phone and make calls. The device is fully waterproof and dustproof, meaning it can survive just about any tough conditions it has thrown at it.
Best features
Up to 10 hours battery life and 1 week standby time, ideal for particularly long journeys.
The A2DP function: This lets you stream music live from your mobile phone or mp3 device straight into your headset.
Self-adjusting speakers: The Automatic Gain Control on the device means that the sound automatically self-adjusts depending on ambient background noise.
Hot-dial number: A phone number of your choice can be pre-set on the Cardo SmartSet mobile application. This is particularly useful if you want to quickly call someone without having to fuss about.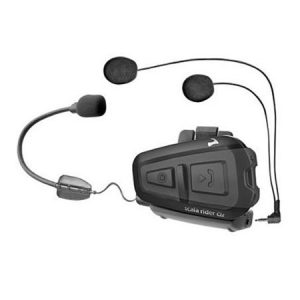 Next on the list is the revolutionary Cardo Scala Rider Q3 Multiset, with the most features of any of its predecessor models. This is well suited for motorcyclists of up to four people who want to keep in contact together, whilst traveling on the road. Fantastic for occasions such as a long trip away with friends.
The Q3 multiset has a refined and aerodynamic looking design. The reduced sized mounting components mean the devices work with practically any motorbike helmet.
Best features
Rider to rider passenger music sharing: A brand new feature for this device allows music to be shared between passengers via A2DP, this is great fun and means you can all simultaneously enjoy the same tunes whilst you drive
Communication between riders of up to 1KM: This is an ideal range for a group of motorcyclists
Built-in FM radio: The ability to listen to the radio on the go for up to 7-10 hours, with a maximum of 6 programmable pre-set stations. There's also a smart auto scan which prioritizes and connects to the strongest signaled stations.
Talk time of 8 hours and Standby time of up to one week.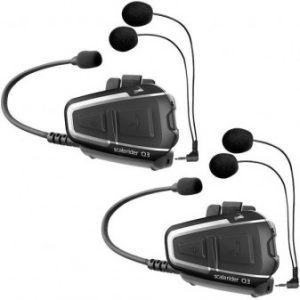 A fantastic addition to the fleet is the Cardo Scala Rider Smart H duo, which is incorporated with HJC helmets. The 40mm HQ speakers allows the sound to be outstandingly crisp and clear, the battery can last up to 13 hours without charge and the device has an IP67 rating meaning it's resistant to dust and water.
If you are looking for a long distance intercom, then this is the device for you. Passengers of 3 or less are able to talk for up to 1.2km apart, and 3.6km on DMC mode of 4 passengers or less.
Best features
Cardo gateway: This allows you to connect with other brands of intercoms
40mm HQ speakers: Great for making calls, or listening to some tunes on a nice long ride.
FM radio, and up to 6 pre-set stations.
Remote control functionality: The Cardo SmartSet app lets you and operates the device on your smartphone
Long 13 hour talk time, and 7 days stand by time.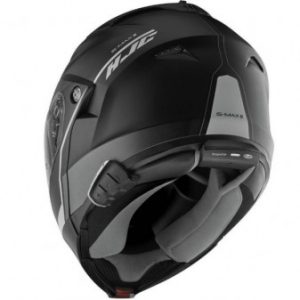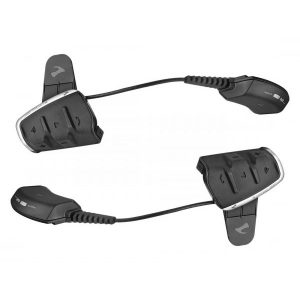 Staying connected is a guarantee with the Cardo Scala Rider PackTalk Bold duo. This beast of a device can communicate with up to 10 people in DMC mode, making it ideal for those in big groups.
A groundbreaking feature on this device is the voice operation feature. Just simply say ¨"Hey, Cardo" and everything can be done without you having to even move a finger.
Best features
RDS function: Automatically searches for the best radio frequency, meaning you don't have to do any of the tricky work yourself.
Custom speed dial settings
Two mobile phones can be connected simultaneously: This is ideal for people who like to mix their leisure and business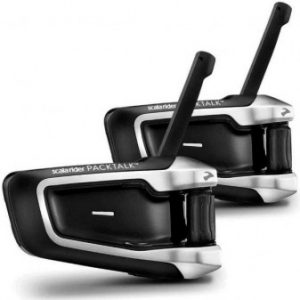 Freecom range
New entries into the Cardo intercom product line are the Scala Rider Freecom´s. These products give you the latest intercom headset technology direct to your motorbike helmet, with refined designs and value for money price tags.
The standard product in the range is targeted towards the solo rider segment and comes with everything needed to stay connected on your daily ride.  The 2 channel Bluetooth connection lets you listen to both music and receive gps direction at the same time. Making calls on the god couldn´t be easier, whether you are making calls to your mate on the way to his house, or ringing your partner on the way home from work the smart voice operation software automatically adjusts to background noise, providing crisp and clear sound through the thin 40mm speakers.
A step up from the previous model, the freecom 2+ has all the features as the Freecom 1+, but more. This device also uses a 2 channel Bluetooth connection, but also has a rider to pillion intercom system. When you don´t require talking to your pillion passenger, you can share your own music or FM radio stations, whilst simultaneously getting GPS directions. The device also has a new click to link feature, which lets you easily pair to other Scala rider devices.
At the very top end of the product range, is the Scala Rider Freecom 4+. This device packs in some amazing features that are very hard to find in any other device within this price range.  In addition to pillion to passenger intercom, you get to experience a 1.2km range bike to bike intercom with up to 4 riders; all the while you can share you your FM radio and tunes whilst you drive. An impressive feature is the intercom toggle option, letting you chose to go into a private chat mode.