Allow me to introduce the Tablet Thunderbook C1820G with Windows 10 Home, an ultra-resistant and lightweight tablet, ideal for field work, construction and industry alike. Offering a number of great features and the Windows 10 Home operating system, this tablet is a great addition for any business. Take the opportunity to grasp the benefits of this tablet in the Tablet Thunderbook C1820G review below!
Top Features
Lightweight Ergonomic Design
Weighing in at only 630g, the C1820G is super lightweight but still packs the power needed in a top quality tablet. It has an 8 inch LCD display, more than large enough to work on daily workplace tasks. The quality and level of detail in the image are outstanding, producing sharp and bright colours from all angles without fail. In addition to this, the ergonomic design makes it natural and comfortable to hold in one hand with the option to attach back hand support for added comfort.
Long-Lasting Battery Life
This device boasts a more than sufficient 8 hours battery life, so that you can rely on this device throughout the working day.
Military Grade Resistance
The C1820G has been designed with maximum emphasis on being strong-bodied and tough, as well as lightweight and elegant. This c
an be shown through the MIL-STD-810G standard certification it has received. It is capable of working in any extreme environment, even in temperatures as low as -20ºC and as high as 60ºC. The Thunderbook C1820G is able to effectively withstand falls, shocks, spills, vibration and many more unfavourable elements; making it one of the toughest Windows tablets on the market.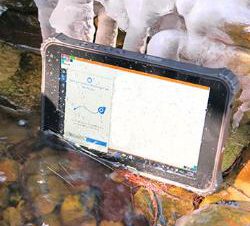 Large Memory Capacity
It has a vast memory capacity with 4GB RAM and a 64GB SSD Hard Drive.
WHY YOU'LL LOVE IT:
Lightweight at only 630g
5MP Rear Camera, 2MP Front Camera
IP67 protection
2 Year Warranty
Taking this into account, the Tablet Thunderbook C1820G Windows 10 Home is a super resilient tablet that will be a great addition to any business that may operate in adverse conditions. It is able to overcome the elements and give you a reliable, high quality performance regardless.
You can check this product out here: Tablet Thunderbook C1820G
Or alternatively, you can see our wider range of Tough Tablets here: Alternative Products