More often nowadays people are taking their home security into their own hands. After all, everyone wants to know their valuables are protected and every family wants to know their children are safe. Getting set up can be a challenge, but Gigaset offers you the basis of your home security in one kit. Below are Onedirect's thoughts.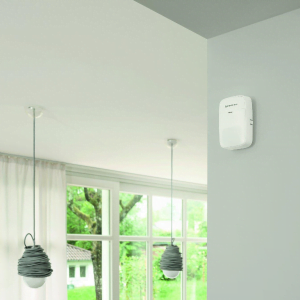 Effective, expandable starter kit
The Gigaset Elements Kit includes three devices that are the foundations of an effective, modern security kit. You can easily expand this collection of products to further improve your home security.
Base Station – all your devices connect to the base station
Door sensor – monitors whether there is any sign of forced entry
Motion sensor – detects any movement that is out of place
The door and motion sensors work together to detect whether someone has come home. This feature is particularly useful for parents to monitor their children.
Easy to install
The Gigaset Elements kit is easy to assemble and install (even without quick start manual) and can be done in less than half an hour. It is simple to connect the sensors to the base station and you can mount the door and motion sensors within minutes. As well as this, the sleek, white design complements any home.
Connection to your smartphone or tablet
The Gigaset Elements app enables your smartphone or tablet to receive data from your home in real time. The app is free, regularly updated and you can customise which notifications you receive. You can also see if the system needs attention, for example if the battery is low.
You will be immediately aware of anything out of place happening in your home. However, if your device was on "do not disturb" setting or vibrate you would miss the push alert. The siren, therefore, may be another requirement if you need to keep your device muted.
Trustworthy
The development of the Elements kit comes from thorough and extensive research performed in real homes so you can be sure that it knows what it's doing. The door sensor detects anything unusual from forced entry to strange timing, of which you will be immediately alerted through the app so that you can act straight away. You can even use it to turn your lights on and off to deter burglars. It works anywhere within the European Economic Area and in Switzerland. This is convenient if you have a holiday home you'd like to keep an eye on.
Verdict
So why buy the Gigaset Elements Starter Kit? First and foremost it is a very useful foundation of devices to start you out with a home security kit. It is easy to expand your kit with the additional door and motion sensors and an alarm component. You can breathe easy knowing that your home is being securely watched. With the efficient app, you'll be the first to know if anything is out of place.
For more information, give our team of experts a call on 0333 123 3050 or visit our website onedirect.co.uk