In a fast and delicate environment like hospitals, communication is crucial. The Telephones for Health Services below were selected with this in mind, helping to ensure that these services can always be provided efficiently.
The Polycom VVX 410 VoIP Phone is an expandable multimedia IP business phone that offers crystal clear communications, and intuitive colour user interface for minimal training, improved collaborative functionality with other business media and greater user productivity.
Microsoft Exchange compatibility
Users can access and manage Microsoft Exchange, check and update calendars, receive notifications and alerts for meetings, look up contacts in the corporate directory as well as check their status on instant messaging, all from the screen of their phone, even while they are waiting for their PC to start-up.
Screen Compatibility with PC
They can also display the VVX 400's screen on their PC with full interaction and navigation using their PC´s mouse and keyboard.

Easy installation and maintenance
All in all, this is a great solution for business use, thanks to its web-based configuration tool for easy installation and maintenance, its inter-operability with existing IT infrastructure, and its capability to take up to three expansion modules making this a phone which will grow with your business.
WHY YOU'LL LOVE IT
Back-lit 3.5" LCD Colour Screen
Polycom HD sound
Voicemail compatible
Adjustable base height
The Snom D712 is an IP phone with 4 lines, advanced telephony features and HD audio quality, ideal for efficient communication. This ensures smooth communications in your work environment.
Secure communications for businesses
The Snom D712, using a pre-installed certificate, supports the latest VoIP security protocols to ensure that all communications are secure, protecting sensitive company information. These include for example Transport layer security (TLS) and password-protected web interface.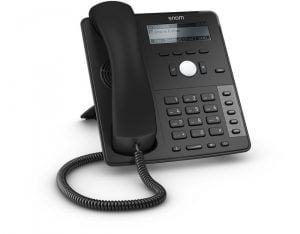 Wideband HD audio quality
The Snom D712 supports a broad range of codecs, thereby offering crystal clear HD audio quality for calls from the handset and when operating hands-free.
Storage and hands-free capability
With the ability to use speakerphone, also with great audio quality, you can share the call with others in a group environment, such as a meeting. There is also a 1000 entry directory and stored call lists to save important data and save valuable time and effort when at work.
Advanced call features
The Snom D712 boasts a wide range of advanced call features, including: speed dialling, 3-way conferencing on the phone, caller identification, call waiting, call blocking and hold (with the option of music on hold). You can also activate DND mode (Do not disturb) for when you are occupied and unable to take calls. It is possible to take 4 simultaneous calls, so you have the freedom to multitask.
WHY YOU'LL LOVE IT
3-way conference calling
Wall-mountable
1000 entry local directory
Power over Ethernet (PoE)
The Yealink T29G is an advanced desktop VoIP phone with an attractive display and excellent audio quality. This is an excellent investment for any professional who needs easy, comfortable access to state-of-the-art IP functions.
High-res 480×272 LCD display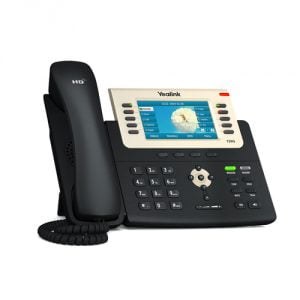 A high-resolution 480 x 272 LCD display makes for a pleasant user-experience, as well as facilitating your access to and use of call management features.
Supports 16 VoIP accounts and 6 expansion modules
Supporting 16 VoIP accounts, the T29G has been designed for intensive use in busy offices and has all the essential functions for businesses, such as a large LCD screen, 10 line keys, caller ID, full duplex hands free, 3-way conferencing, SMS, voicemail and a phonebook for 1000 entries.
WHY YOU'LL LOVE IT
Multi-language (more than 20)
3-way conference, DND, speed dial
Black list, call history (1000 entries)
Call waiting, call transfer, call forward
The Orchid XL250 is a new cost-effective analogue phone packed with features for an ideal business phone.
Easy and Simple Functionality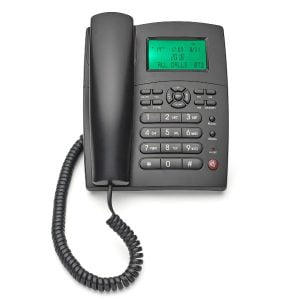 This feature phone has been designed for easy and simple functionality for any office worker. This business telephone works on both direct analogue line and analogue multi-line telephone systems giving you a perfect platform for conference calls.
Speaker Phone with Large Buttons
The Orchid XL250 has a Full Duplex Speaker Phone with 5M Range which can even be heard in noisy environments. Dialling can be done swiftly thanks to its simple dial pad with large buttons.
WHY YOU'LL LOVE IT
Large LCD 16 digit display w/ 4 contrast settings
Date + Time
154 Phone Book memories
Headset socket (RJ Square)
Mid-range telephone with high-end services
The Yealink T27G IP Desktop Phone is made with high quality materials and features a large 240 x 120 pixel LCD display to provide a simple and enjoyable user experience.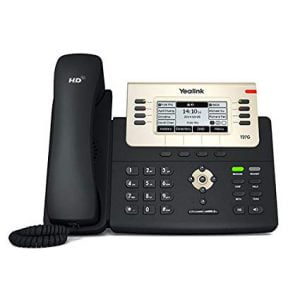 It supports 6 SIP accounts and is simple, flexible and secure to install. The Yealink T27G features an intuitive user interface and improved functionality for easy operation. This model also includes 2 Gigabit Ethernet ports.
Feature-rich IP phone
Its feature-rich tool unifies higher voice capabilities and increases the ability to extend functions. Thanks to its Yealink Optima HD technology and the Opus wideband codec, you get exceptional sound quality of a face-to-face standard.
USB Port
With a new USB port, the T27G offers unprecedented functionality and scalability, ready for future Bluetooth, Wi-Fi and USB recording capabilities.
Designed for use in small to medium-sized businesses
The T27G VoIP Desktop Phone is a cost-effective IP solution that helps users to optimise secure communications – designed for use in small to medium-sized business environments.
WHY YOU'LL LOVE IT
Diary for 1000 contacts
HD Sound
3.66" Backlit Display
Integrated PoE
NEED EXPERT ADVICE?


Call us with your questions
0333 123 3050