Why use VoIP?
If you are looking to learn how to use VoIP on your iPhone, you´ve come to the right place! Nowadays iPhone use is an undeniable trend of modern times, with figures rising each year and at least 7.6 million devices sold in 2017 alone. With this thought in mind we can expect the demand for VoIP services for iPhone to surely increase with this. Overall, the growing use of VoIP technology in the workplace is should be greatly considered by small businesses for the relatively little cost it requires. Here at Onedirect we´ve compiled a list outlying the available methods for VoIP phone technology, take a look!
Below you will find a list of VoIP apps for your iPhone
1. Skype for business
We´re beginning with perhaps the most well-known form of VoIP communication available on iPhones: Skype. Skype remains popular with users precisely because of it´s ability to offer free voice and video calls as well as texting free of charge. Skype itself has been around for longer than most other services and as such as cemented its position in workplaces as a popular tool for conference calls and free group video calls.
 2. Truphone 
The Truphone service is currently one of the firsr available methods of VoIP communication. The service successfully integrates the application itself with the iPhone allowing for advanced, high-quality calls. As Truphone is based in the UK we anticipate that readers may well be accustomed to it already. Furthermore, Truphone offers a large range with cheap costs and meagre rates of 3p.
3. Viber 
As well as permitting the use of free texts, VoIP technology is also available with this application. Viber allows users to place voice calls over Wi-Fi and is also noted for being able to transient between Wi-Fi, 3G/EDGE networks without degrading the quality.
4. Google Hangouts 
This offers iOS users the ability to initiate calls with ease. Furthermore this service is completely free when in contact with all other Google Hangout devices.
5. FaceTime 
Perhaps overlooked as a form of VoIP communication, iPhone´s own FaceTime features allows for free calls and is accesible with all iPhone devices. The platform is available both in video and audio form.
Alternatives to VoIP for iPhone :
So far we´ve discussed the opportunities for VoIP on iPhones however it may be worth considering the list of options available with a VoIP phone. If you haven´t been swayed by the idea of using VoIP enabling applications on your iPhone, we´re displaying 5 VoIP enabled deskphones below: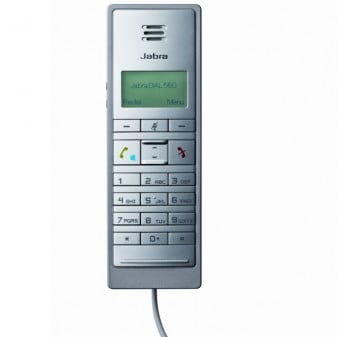 Having compatibility with leading UC platoforms and optimised for Skype for Business (VoIP technology) the Jabra Dial 550 gives you the traditional functions of a telephone combinbed with its VoIP technologies. Users will find themselves protected against sudden and overly loud noises through the device´s PeakStop protection feature. Skype for Business (Microsoft Lync) is also enabled, meaning you will get the chance to access the same VoIP technology discussed previously.
Why you´ll love it 
Optimised for Skype for Business
PeakStop Audio Protection
UC Plug and Play
Omni-directional microphone
With Skype for Business featured as one its main assets the Polycom VVX 401 MS  is a leading VoIP phone with more than you expect! Complete with Polycom´s HD Voice technology the user will be able to enjoy only the clearest quality of sound which in turn means you will be more productive and expend less energy on simple tasks. The VVX 401 also operates via Power over Ethernet through the use of two Gigabit Ethernet ports.
Why you´ll love it 
Optimised for Skype for Business
12 lines
USB port
Power over Ethernet
3. Polycom VVX 501 MS Skype for Business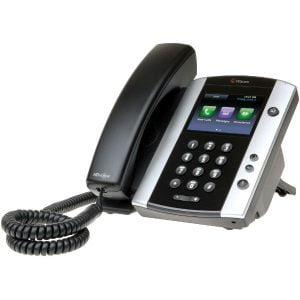 Thirdly, we introduce to you another fantastic Polycom device with top range VoIP qualities we have the 501 MS Skype for Business. Together with Polycom´s HD and Voice and Acoustic Clarity technology you can be sure that you will only ever hear the best quality possible. As well as offering 12 VoIP accounts the phone operates with the same features as any device should. This includes RJ9 headset and USB headset jacks with traditional speed dial and  3-way conferencing. Furthermore, with the VVX 501 you can use video calls as part of your work by adding an optional camera!
Why you´ll love it 
Optimised for Skype for Business
Full Duplex Speakerphone
3-way conferencing
12 lines
Our penultimate choice has to be the Plantronics Clarity P340-M, a phone with all the right features that you would need. Firstly this phone is compatible with numerous platforms including Mac OS and Windows all via a USB cable. These dynamic qualities are further enhanced by the device being able to connect through Skype as well as Cisco, Avaya and others. Additionally, this device also takes into account those with partial or complete hearing loss, as the phone allows for a hearing aid to be to adjoined via the connnector port.
Why you´ll love it 
Optimised for Skype for Business
Hearing Aid Compatible (HAC)
Compatible with Windows or Mac OS
Enlarged 12-key dial pad
5. Polycom VVX 400 MS VoIP Desktop Phone
Finally, the last product on our list would be the Polycom VVX 400 MS. The device requires a minimal amount of training in order to access. For instance, this device allows the user to access their Microsoft Exchange Calendars as well as receive any reminders and alerts directly on their phone display. Futhermore, users will greatly appreciate that this telephone is optimised for Skype for Business, giving you the VoIP experience you´ve been looking for.
Why you´ll love it 
Optimised for Skype for Business
Polycom HD Voice
Power over Ethernet ability
Polycom Zero Touch Provisioning
Click here to browse our VoIP phones 
Call us with your questions
0333 123 3050