Ranging from business class HD colour screen models, to phones with cutting-edge touchscreen displays, Yealink design IP phones suitable for all business professionals.
Introducing the new T5 range, specifically for smart offices. The T5 range accommodates the demand for convenient communication and collaboration, anytime, anywhere.
High-quality phones that are easy to operate
Integration with office software (calendar, browser, emails)
Support for multiple applications for various business settings
Android operating system
Supports Bluetooth and WiFi
The T53W is an entry-level IP phone, well suited for common workspaces. Acoustic shield technology ensures distraction-free HD communications for remote participants. An elegant and sleek design paired with an adjustable display, ensures your viewing needs are fulfilled! The T53W supports DECT handset compatibility via a DECT dongle Yealink DD10K (up to 4 cordless handsets), seamlessly switch calls between the desktop and the handset.
8 line keys, 12 SIP accounts, 21 memory keys
7" (360 x 160) pixel graphic display
Built in Bluetooth and WiFi
1 X USB port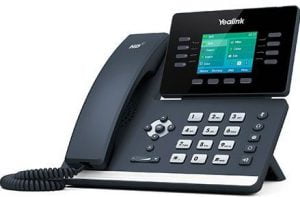 The Yealink T54W is a mid-level phone ideal for professionals and managers with a moderate work load. With similar features to other phones in the T5 range, the T54W is equipped with acoustic shield technology to deliver distraction-free communications and is integrated with Bluetooth and WiFi. Unlike other phones in the range, the Yealink T54W has a 4.3" pixel colour display.
10 line keys, 16 SIP accounts, 27 memorable keys
3" (480 x 272) pixel colour display
1 X USB port
Dual-port Gigabit Ethernet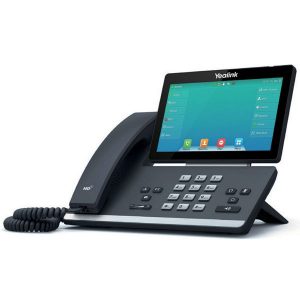 If you're a busy manager with a heavy workload, the T57W is the premium level phone suitable for you. With the built-in Bluetooth 4.2 and the built-in dual band 2.4G/5G Wi-Fi, the T57W IP Phone ensures you are up to date with modern wireless technology. Thanks to the clearly defined menu, easily control all important functions such as calls, emails, internet browsing through the touch of your fingertips. A built-in USB 2.0 port allows you to enjoy USB call recording via USB flash drive. Via this USB port, you also can connect a wired/wireless USB headset.
29 touch keys, 16 SIP accounts
7" (800 x 480) pixel colour touch display
HD voice with Acoustic Shield Technology
Adjustable LCD screen
The T58A is an Android based smartphone, suited for executives and busy managers with collaboration demands. Thanks to the HD voice and noise cancellation technologies, experience excellent sound quality. The 7" colour touch display features built-in email, calendar and internet functions, allowing you to complete all important tasks at the touch of your fingertips! As well as this, enjoy HD video calls with the Yealink CAM50 (sold separately).
*Yealink T58V – Camera version*
27 touch memory keys, 16 SIP accounts
7" (1024 x 600) touch screen
Phone book up to 100 entries
Plug and Play (USB ports)
Interested in other Yealink IP Phones? Shop our full range here.
---
Call us with your questions
0333 123 3050