Walkie talkie earpieces allow professionals communicate hands free and in a discreet manner.
A wide range of connectors are available on the market today. Each model will have either a 1-pin or a 2-pin audio socket. It is important to note that not all 2-pin plugs will fit into a 2-pin socket, as often the two pins are different distances apart.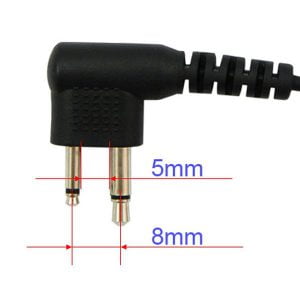 Another assumption people make is that the same accessories will fit the same brand walkie talkie, this is not always the case. Be sure to check the accessory compatibility before purchasing!
The key aspects of an earpiece are comfort and versatility. Depending on the type of job, the preferences can vary greatly. Take as an example the security industry, where devices need to be discreet; while a headset is simply too bulky for the job, an earpiece fits the bill perfectly.
This is a standard issue earpiece; the plastic D shape fits over the ear comfortably and sits securely in place.
The D has a built-in microphone with a PTT (push to talk) function or VOX depending on the capabilities of the walkie talkie. On the wire is a clip that allows you to attach the earpiece onto the users clothing.
Similar to the D-shaped earpiece, the G-shaped earpiece hangs over the ear rather than hooking around it. Due to its ergonomic design, this earpiece is comfortable to wear, even for long periods of time.
These walkie talkie earpieces are put to best use in noisy environments such as nightclubs, live music events or bars because the speaker is closer to the eardrum.
This particular design has no clip that extends behind the ear. The speaker fits in the ear much like an MP3 headphone with the speaker attaching onto the wire. Much like the other designs the wire clips onto the garment and can be concealed behind clothing.
This type of walkie talkie earpiece is durable and lightweight; hence, it is used by security staff and body guards. The audio tube is clear and therefore more discreet than the standard issue black earpiece. Despite a change in material, there is no compromise in sound quality.
These earpieces can accommodate a PTT (push to talk) function or a hands-free VOX function; the latter would give you the freedom to perform tasks whilst communicating.
Click below to view our full selection of earpieces
View full range of Walkie Talkie Earpieces