Here at Onedirect, we have compiled for you the Kenwood radios: Top 10 on the market. that we believe will significantly improve your businesses communication and general efficiency.
First established into the professional two–way radios market in 1978, Kenwood is one of the leading manufacturers of walkie talkies.  Their two-way radios are particularly popular in education, construction, and smaller businesses.
---
The first two-way radio on our list is the Kenwood TK-3501. Robust, lightweight and simple to use,  the TK-3501 is ideal for professionals and novices alike requiring a license-free radio communications solution.
The TK-3501 meets IP54 dust and water intrusion standards, as well as 11 US MIL-STD 810 C, D, E, F, and G standards. Its robust durability is able to withstand tough use in any work field
If you have long working hours, then help is at hand. The device's power-saving design delivers up to 20 hours of use, so you can easily focus on the task at hand without any concern.
Other features you'll love
Extended range – 9km
Built-in VOX
User-programmable
---
The Kenwood PKT 23 is one of the smallest and lightest two-way radio available on the market. Fitting in the palm of your hand, the PKT-23 is easy to take anywhere your staff needs to go. At only 110 g, it can fit comfortably in a pocket or attached with the included belt clip.
With up to 15 hours of operation, this radio is ready for immediate use wherever you go and it complies with an IP54 rating making it resistant to dust and water.
This superb device provides up to 8 channels and can be assigned to specific team members so that you can always speak directly to your staff. The voice guide alerts you when you change channels.
Other features you'll love
3.5mm headset jack and micro-USB port
Scan, battery saver, calling alert
PTT (push to talk) and VOX (voice activation)
---

A popular two-way radio in our list is the Kenwood TK-3000E is portable, compact and extremely reliableñ It has all the necessary features for your business, especially in inventory control activities and industrial service operations.
Slim and weighing in at only 203g the TK-3000 is ideal for hooking on a belt or even slipping into a coat pocket.
In addition, this compact, user-friendly portable offers a total of 16 channels, and each can be assigned a QT and DQT tone key to eliminate unwanted signals
Other features you'll love
Busy Channel Lockout
Low battery alert
VOX ready
---
Despite its lightweight and compact dimensions, the TK-3601DE is very much built for professional use in all working conditions.
The TK-3601DE features the latest digital dPMR446 technology for improved radio interference protection. It's easy to switch between digital and analogue modes, with a total of 48 channels (32 digital and 16 analogue).
An innovative feature of the TK-3601 DE is  7 selectable LED colour options which can be set to identify different caller units at a glance. This is ideal for workplaces which require staff to stay in communication with each other
Other features you'll love
PMR446 and works in both FM Digital and Analog modes
Scan function
Busy channel lock
---
The Kenwood NX-3220E2 is a multi-mode two-way radio capable of operating as an analogue and digital radio simultaneously. Packed full of features, the device is designed with improved efficiency and worker safety in mind.
With Kenwood's Active Noise Reduction technology, the NX-3220E2 can be used confidently around heavy machinery or anywhere where there is high volume background noise.
Emergency features are integrated for those in intensive job roles. There is an emergency Button safety feature for raising alarms and also has a built-in motion detector which issues Man Down alerts in the event of a fall.
Other features you'll love
7-color Light Bar Indicator
Built-in GPS Receiver
Built-in Bluetooth for hands-free communication
---
The Kenwood TK-2302E provides clear, reliable communications indoors or out, rain or shine. Based on a proven design, but refined and updated with enhanced features, it has the power and performance to satisfy even the toughest job requirements.
With a tough design to take rough treatment in its stride, the TK-2302E has passed the demanding IP54/55 dust and water intrusion tests, both with and without the KMC-45 optional speaker microphone.
The rounded ergonomic contours of the Kenwood TK-2302E naturally provide a superbly comfortable hold. Meanwhile, the non-slip elastomer channel knob and enlarged PTT button ensure a positive tactile response during operation.
Other features you'll love
VOX function
16 channels
Scan function
---
With a smaller, lighter design and new features such as increased operating bandwidth, the Kenwood TK-2360E portable radio is the perfect next-generation solution for your installed base of enterprise and industrial customers.
The built-in voice inversion scrambler provides basic protection against casual eavesdropping. In addition, a clearly identified Orange key can be used exclusively for emergency signalling to send a help signal to a pre-determined person or group of people.
The TK 2360E is built to survive the hard knocks, drops and all-weather environments of its users. It meets or exceeds the stringent IP54/55 dust and water intrusion standards and the MIL-STD 810 C, D, E & F environmental standards.
Other features you'll love
16 channels
PTT ID
Internal VOX function
---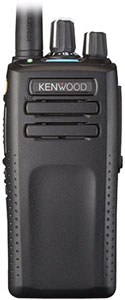 The final product on our list is the Kenwood TK-D34OE, ergonomically styled yet tough as nails.  This portable device provides the features and performance needed for a wide range of workplaces – from warehouses and stations to shops and hotels.
A radio's most important quality is clarity – being able to hear, loud and clear. The TK-D34oE has 1 W of audio output power, while the AMBE+2 VOCODER technology accurately replicates natural human speech nuances for superior voice quality
In an emergency or whenever a user needs to interrupt a call, Call Interruption is available in both direct and repeater modes, while encoding or decoding. There is also a Lone Worker function to protect employees working alone.
Other features you'll love
32 channels in 2 zones
Dual capacity: Analog and digital
IP54 / 55 certification
Onedirect products are the No.1 choice for quality and affordability!
---
NEED EXPERT ADVICE?


Call us with your questions
0333 123 3050