Below we have comprised a list of what we believe to be, the top 3 Kenwood radios available.
The Kenwood PKT-23 is a license-free compact walkie talkie with up to a total of 8 pre-programmable channels. Despite the simple design; the PKT-23 has an IP54 rating making it resistant to dust and water, it also meets military standard 810.
Measuring only 46 x 85 x 21mm and weighing a mere 110g, this walkie talkie fits into every compartment or even pocket and is one of the most compact Kenwood two-way radios.
The function buttons on the face of the radio make it extremely easy to use, you can have the device programmed to push to talk (PTT) setting or Vox hands-free with an earpiece fitted.
Key Features: 
8 channels
Military standard 810 rating
15 hours talking time
The Kenwood TK – 3401D is a license-free walkie talkie that is capable of operating on both digital and analogue networks. Split between these two networks you have the option of 32 channels, 16 for digital and 16 for analogue.
The 3401D houses the latest digital audio technology giving you superior sound quality to its analogue predecessors, minimising background noise. This device incorporates an AMBE+2 Vocoder to clarify and enhance your voice, as well as increasing coverage by 20% more than analogue systems.
The integrated BTL amplifier and large speaker provide a 1 watt audio output, meaning your voice is both louder and clearer.
Key Features:
IP55 rating
Military Standard 810 rating
10km range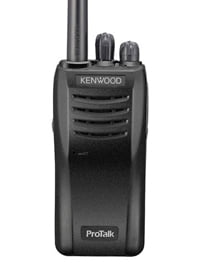 Weighing only 210g; the 3501 is surprisingly robust for its size. This license-free two-way radio not only has an impressive range of 9km due to a precision tuned RX section and an optimised antenna, making cummunicaiton crisp and clear.
The TK-3501 can be programmed by the user with no need for additional software, they can change the channel frequency, QT tone or DQT code with ease.
You can also adjust the programming of the TK-3401D with no need for additional software, with user customisation possible in the channel frequency, QT tone and DQT code.
Key Features:
Vox hands-free function
16 channels
IP54 rating
Click below to view our full selection of Two way radios