In the following article, we´ll take a look at how to choose a two-way radio and which might best suit you depending on the circumstances. If your knowledge on the subject is somewhat limited Onedirect are here to offer advice and options for you.
A license-free two-way radio is commonly purchased for casual use or communication over shorter distances.
With a power output of around 0.5 watts, they are only able to transmit over a shorter range. PMR446 radios have the pre-programmed channels for your convenience, all of which function within the UK and across the EU.
The specifications of a license-free two-way radio make them ideal for use in event management, hotels, factories or construction sites.
Advantages of license-free two-way radios
No license (of course); additional payment not required
Generally cheaper
No interference with licensed radios because of pre-programmed channels
Disadvantages of license-free two-way radios
Other radio users can communicate on the same frequency you are using, therefore you might encounter unwanted traffic
The range of these walkie talkies is significantly less, on average around 3km
Not ideal for emergency situations as the channels are subject to first come first serve usage
Robust and weatherproof license-free radios – an ideal tool for simple communications, particularly outdoors and in hazardous environments.
Key features:
Up to 10km range
16 channels and 121 privacy codes
Back-lit LCD display
The IP66-rated Mitex PMR446 Xtreme2 Two-Way Radio was designed with versatility and ease of use in mind; thus, it is perfect for use in harsh environments.
Key features:
up to 12km range
IP66 Rating
15 channels
The Midland G10 two-way radio is a small and compact professional walkie-talkie that is easy to use and provides clear, crisp communication.
Key features:
Up to 10km range
VOX function
Audio squelch (Noise-cancelling)
---
You will require a license when your two-way radio doesn't operate on a pre-programmed PMR446 frequency.
A license helps you to avoid any unwanted traffic whilst talking on a specific channel; as a result, interference is greatly reduced. Often hospitals, business owners and those working in the transport industry prefer a licensed radio, as it offers more privacy and a greater range.
How do I get a license?
Obtaining a license is nowhere near as difficult as it sounds. You can simply visit the Ofcom website and obtain one there.
Licenses can vary in price; a basic package can be anywhere from £100 whereas some high demand licenses can cost up to £500 in busy areas like London.
However, this not only comes your license but also the ability to add other two-way radios onto the same contract.
Types of license
UK simple license
This license gives you the right to use a more powerful two-way radio anywhere in the UK.
This license is easy to apply for and only costs £75 for 5 years.
Geographical license
This type of license allocates you a set geographical area in which you are free to use specific frequencies to communicate.
This package will usually cost you around £100 but in areas like London, prices have risen significantly in recent years. The radio must be used inside the allocated area. Use outside may interfere with another radio's communication because the frequency will have been provided to another radio user.
Technically Assigned
These licenses are very flexible. The cost will vary depending on where you intend to use the radio and on the intended communication. The popularity of the frequency will also have a part to play with the price.
Benefits of a licensed two-way radio
Each radio is assigned a frequency so as a result, you can have uninterrupted communication.
More powerful battery and therefore a larger range
Perfect in an emergency because of frequency allocation
Our recommended licensed two-way radios!
The Mitex GeneralX Twin Pack is a robust, heavy-duty radio that works with existing Mitex models (General, Pro and DMR). With an IP66 rating, the walkie talkies are resistant to dust, water and vibrations, making them suitable for industrial, working and outdoor environments.
Key features: 
Up to 25km range
IP66 rating
Powerful 5-watt rechargeable Lithium-ion batteries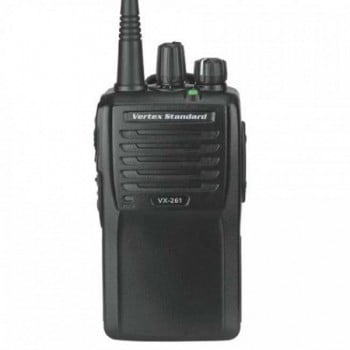 The Vertex Standard VX-261 two-way radio is part of the new VX 260 range of Vertex portable two-way radios. This radio offers the ideal combination of features and performance to ensure streamlined user experience.
Key features:
Up to 25km range
700 mW internal speaker
Superior audio quality

The Motorola DP1400 offers flexible analogue and digital communications, with high voice clarity, superior audio and the full range of features that you would expect from a Motorola radio.
Key features:
Up to 25km range
IP54 rating
Noise-cancelling software
Click below to view our full selection of two-way radios
View full range of two-way radios