The Motorola T82 Extreme walkie-talkies, are new to the range this summer 2017. The new model improves upon the successful T80 walkie-talkie, which has been one of our top sellers in the two-way radios category. It is a great accompaniment for any adventure, with a durable design, and high technical specifications. So, what do we think are the best features of the Motorola T82 Extreme? Have a look below to find out!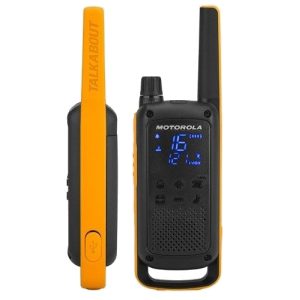 Design
The T82 has a simple and smart style, with a two-tone black and orange body, and hidden screen display. All buttons are easily accessible, which is great for when you are using the radio on the move, or while enjoying extreme sports. The display is clear and only illuminates when you need it to, showing call information, and saving battery life. If you are nearly out of battery, you will know straight away thanks to an indicator built into the front of the handset. It's design also means that it is resistant to water and knocks, with an IPX4 rating. This is an extremely useful design feature, especially if you are planning to use your walkie-talkie while skiing, hiking or undertaking extreme activities.
Features
So, we know that the T82 has a simple and sleek design, but what exciting features are built in? We think that one of the most useful features of the T82 is the flashlight which is built into the top of the radio. You never have to worry about being without light when you go hiking, biking or skiing, which can keep you safe in difficult situations. The T82 Extreme also boasts dual power USB charging. This means that you won't have to sit around twiddling your thumbs while you wait for your radio to reach full charge. You can enjoy super fast charging, which lets you get back to what you love doing in less time.
You also don't need to worry about spending lots of time trying to pair your radios. The T82 Extreme has press and hold easy pairing, which makes the whole process extremely quick and glitch free. Just press, hold, and you're connected. Simple!
Technical Specifications
The T82 is technically a very strong choice of two-way radio. It has up to 10km range when in optimum conditions e.g. hilltop to hilltop in good weather conditions. This range allows you to communicate with your team, even if you get split up. The radio is in the PM446 category, which means that it is a part of the UHF radio frequency range that is open without licensing for business and personal use. You don't need to worry about obtaining a license, which saves both time and money.
If you are going to be using your walkie-talkies on the go without access to a charging point, the T82 is a great choice. It boasts up to 18 hours battery life, so you can rest assured that you won't run out of battery when you need it the most! Finally, the T82 has 16 channels as well as 121 privacy codes, which helps to keep your conversations secure.
Accessories 
Onedirect offers a large range of accessories which you can use with your Motorola T82 radio. You already receive a range of accessories with your T82s. They come with a carry case, belt clips, ear pieces and personalisation stickers. However, if you want other accessories, you can find cases, different styles of microphone and ear pieces, replacement belt clips and much more. You can have a look at the available compatible accessories on the T82 Extreme product page.
What We Offer
Motorola Talkabout T82 Extreme Twin Pack: £69.99 Ex. VAT
Motorola Talkabout T82 Extreme Quad Pack: £141.99 Ex. VAT
Motorola Talkabout T82 Extreme Six Pack:£207.99 Ex. VAT
So, what do we think overall about the Motorola T82 Extreme Walkie Talkies?
The Motorola T82 Extreme is a great choice if you're looking for a cost effective radio solution. We love the simple design, coupled with the great range of features that make the radio user intuitive and easy to use. It's the perfect step up from the already successful T80 radios, and we think it's going to be just as popular.
Onedirect products are the No.1 choice for quality and affordability!
---
NEED EXPERT ADVICE?
Call us with your questions
0333 123 3050