Motorola is a globally renowned telecoms company, which prides itself on the quality of its products.  They have an extensive range of two-way radios, both licensed and unlicensed.  Whatever your requirements, Motorola has a two-way radio available for your every need.
In the following list below, we have put together a list of the best Motorola walkie talkies on the market right now.
The Talkabout T82 extreme is the robust, pocket-sized sidekick, essential for all of your adventures.
This licence-free, beast of a device is packed full of features: an IPx4 rating to provide protection against any weather condition, a build in LED light to provide emergency light when you need it the most and a maximum range of up to 10KM.
There´s no mountain high enough or trek rough enough that will prevent you from making
communication with the T82 extreme.
Other features you´ll love
✔Easy pairing
ring for simple group call set-up
✔Hands-free support
✔16 channels and 121 privacy codes

With an extensive list of features in addition to its tough stylish design, the TALKABOUT T62 licence free walkie talkie is one of the most cost-effective ways of staying connected on your outdoor pursuits.
Setting up and operating the T62 couldn´t be simpler with the easy pairing button, and with USB charging, you can power up in a more convenient way.
Rock up to your music festival in style, or have all eyes on you at the campsite. The T62 comes in a choice of the colours red or blue.
The device also has an LCD display, 16 channels, and up to 8 km range. Rest assured, even if you´re outdoors, communication is just the press of a button away.
Other features you´ll love
✔Scan/Monitor
✔Hands-free
✔ Backlit display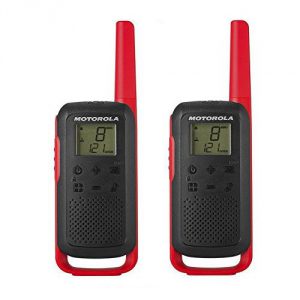 Whether you are processing instructions for the next building project or working on a factory floor, the licence-free Motorola XT420 will provide your team with a faster way to communicate.
This rugged radio comes with 8 channels and 219 users' selectable privacy codes for discreteness, enhanced audio quality to operate in any work environment, and even advanced features such as channel announcement for hands-free operation.
Why not become more efficient at communicating so you can focus on the task at hand?
Other features you´ll love
✔Programmable buttons
✔Antimicrobial coating
✔VOX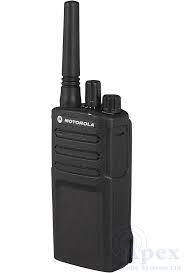 A more advanced walkie talkie in the XT400 series is the Motorola XT460.  This licence-free two-way business radio helps you communicate instantly, without missing a beat.
Likewise to its predecessor model, the XT420, the XT460 provides crisp clear, enhanced audio, with 8 channels and 219 user privacy codes.
However, what differentiates this particular model is an easy to read display and HTML-based customer programming software (CPS) which works with any computer browser.
Other features you´ll love
✔Simplified cloning
✔Disable channel
✔Tri-coloured LED interface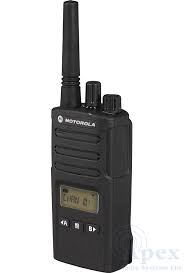 Regardless of if you´re communicating on land or sea, you can count on the T92 H2O licence-free two-way walkie talkie to provide you the best protection.
With its fully waterproof IP67 rating, the T92 H2O can withstand constant submersion of up to 1 meter for a whole 30 minutes.
The radio even floats and, is visible on the water surface. And with the water-activated flashlight, it's even easier to find, making it ideal for water sports such as sailing or canoeing.
If you get into any dangers on your adventures, the T92 H20 has your back. Integrated into the device is a built-in SOS alert siren. Furthermore, there are white and Red LED flashlights to provide you support such as reading maps, even when it´s pitch black outside.
Other features you´ll love
✔17-hour battery life
✔16 channels, each with 121 privacy codes.
✔Compatible with any PMR446 Radio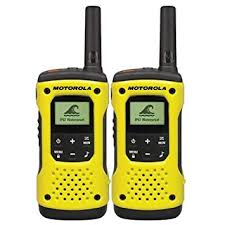 The Motorola TLKR T50 twin pack walkie talkies are one of the top choice models amongst families.
The T50´s are simple, compact and easy to use. This makes them great for staying connecting on the average family day out;   whether that be shopping, on the beach or even just having a play in the park.
Both the devices are licence free and include the essential features such as an LCD display, 8 channels and a 6km range.
At a price of just £40.79 on the Onedirect website, you won´t find much better value for money unlicence devices.
Other features you´ll love
✔VOX
✔Room monitor function
✔ Auto-squelch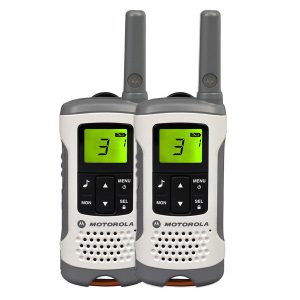 An exciting new addition into the fleet of licence-free analogue radios is the Motorola XT180 twin pack.
These walkie talkies are heavily targeted towards the average leisure user and traveler demographic. This is because of the devices fantastic economical value, light yet rugged design and basic to operate interface.
The following radio twin set comes supplied with 2 earpieces for easy hands-free use, and an integrated LED, all on top of being splash proof. This is perfect for instances such as hiking and cycling trips.
As it is licence-free radio it can be used abroad and with an EU power adapter.
For this reason, the XT180s stands as a top communication tool for traveling, without having to worry about those pesky roaming charges or issues with mobile phone signal when abroad.
Other features you´ll love
✔IPx2 rating
✔101 call tones
✔500mW power transmission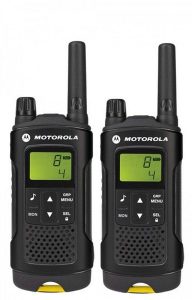 Designed to fit into the palm of your hand, the Motorola CLP446 is one of the lightweight licence-free two-way radios on the market.
The CLP 446 was made to cater to the hospitality and retail industry. It´s a perfect tool to speed up the communication time in the customer services department.
The devices key features are a large push to talk button located on the center of the device and a large speaker to heighten sound quality.
The CLP 446´s also included with an earpiece for VOX functionality and a 14-hour battery which will power through your shift at work.
Other features you´ll love
✔Military Standard 810 design
✔Complete range of optional facilities
✔Smart Status Glow – indicates active channels and battery status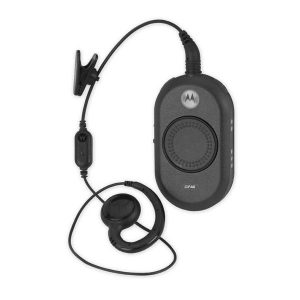 Easy to use and with an impressive price tag, the licenced Motorola DP1400 combines hybrid analog and digital technology to effectively connect your workforce.
Fully compatible with the Motorola MOTOTRBO portfolio of two-way radios, the Motorola DP1400 has superior audio quality, IP54 rated protection against dust and splashes and superb battery life (14.5 in analogue, 18.5 in digital)
Whatever your needs, the Motorola DP1400 walkie talkie provides a simple, reliable, cost-effective communication solution to help work crews connect, coordinate and collaborate to get the job done right.
Other features you´ll love
✔Compatibility with Radio Management suite
✔Dual capacity direct mode
✔Transmit interrupt capability.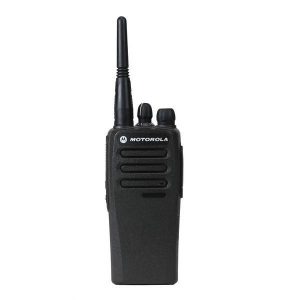 The final product on the list is the most advanced model Motorola offers in the TLKR range.
Tough and weather-proof, the TLKR T81 Hunter is designed to keep you in touch during your daring outdoor adventures
Easy-to-use and with a range of up to 10km, your group can stay connected across a wide area. Supplied with a belt clip and lanyard, spare battery, plus mains- and travel-chargers the T81 Hunter is always on hand and ready to go.
The T81 Hunter walkie talkie is licence-free and includes key features such as LCD display, 8 channels, and up to 10 km range, with no call charges.
Other features you´ll love
✔LCD display with backlight and battery level indicator
✔8 PMR Channels+121 codes
✔Weatherproof IPx4 rated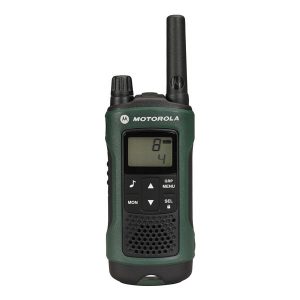 Shop our full range of Motorola walkie-talkies here.
Motorola products are the No.1 choice for quality and affordability!
---
NEED EXPERT ADVICE?


Call us with your questions
0333 123 3050