Did you know that room size is an important aspect when buying a conference phone? Room size can impact the success of a conference call, especially the audio quality. Therefore, it is important to know which product is right for you and your company and if you need to buy additional accessories. Conferencing is becoming more and more popular amongst businesses due to its many benefits. It can also help with plans for growing your business further. For example, it can help improve efficiency and productivity; thus ensuring better communication between employees and employers. The information below offers advice about conferencing based on different room sizes, complete with recommendations for each size room.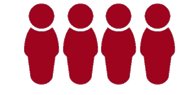 Small rooms
Up to 4 people
Room size (approx.): 12′ × 10′
Recommended microphone coverage: 5-7 feet
This room could be a home office, a small work office or small conference room. Due to the small size of the room, the participants are close to the microphones and also the loudspeaker. Therefore, this ensures excellent sound quality for both parties. In addition, the small size and furniture in the room limits the possibility of echo noise.
Recommended products:
The Polycom Voicestation 300 is a small analogue conference phone perfect for use on desktops and in smaller rooms, for meetings of up to 4 people.
Polycom Acoustic Clarity technology with 3 integrated microphones for 360 degree
room coverage
Connects into any analogue phone jack
Microphone range of up to 7ft away
The Polycom Soundstation 2 is an analogue phone for professional call quality in small to medium-size conferences of up to 10 participants.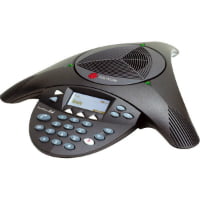 LCD display and built-in telephone keypad
Full Duplex
Intelligent microphone system
The Konftel 220 is the perfect solution for offices and small meeting rooms.
---

Medium rooms
Up to 12 people
Room size (approx.): 12′ × 15′
Recommended microphone coverage: 10-12 feet
This is a standard conference room or larger office. Because of the bigger room size, there will be more challenges to achieving successful conference calls. These include; more participants, echo noise and air vents. Therefore, expansion microphones are recommended to ensure that everyone in the room can be heard to the best quality possible.
Recommended products: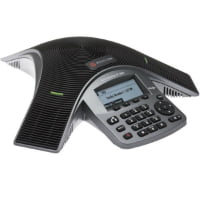 This compact and stylish model is ideal for use in rooms, such as offices or meeting rooms with up to 6 participants.
HD Voice technology provides clear conference calls
2m microphone pick up range
Full Duplex
An advanced expandable device for small to medium-size conferences of up to 10 participants.
Expandable phone for meetings of up to 30 people (with additional microphones)
Full Duplex
Intelligent microphone system
A simple but sophisticated analogue conference phone which provides crystal clear sound for meetings of up to 8 people.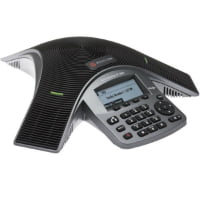 Record meetings on an SD memory card
Plug and Play connectivity
Can be expanded with additional microphones
---

Large rooms/Boardrooms
Greater than 12 people
Room size (approx.): 20′ × 15′
Recommended microphone coverage: 12 feet + (and additional audio systems)
Due to the bigger room size, there are additional challenges such as large open spaces, echo, furniture and surfaces, which need to be taken into consideration. For this reason, expansion microphones are essential so that everyone can be heard. Additionally, other audio systems can be used to improve clarity and sound performance.
Recommended products: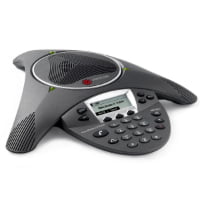 An advanced IP conference phone offering superior performance with a 12ft (3.65m) microphone pickup.
Polycom HD Voice technology
Full Duplex
Polycom Acoustic Clarity Technology
A versatile wireless conference phone for diverse conferencing possibilities in rooms of up to 30m².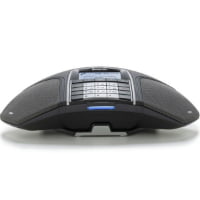 Conference phone for wireless meetings via DECT, VoIP or mobile connection
Up to 60 hours of talk time (works with rechargeable battery)
Supports expansion microphones for larger meetings
A conference phone that offers a dynamic fully-duplex conferencing solution for boardrooms and conference rooms.
---
For further guidance and information, please visit our website.