Did you know that room size is important when buying a conference phone? It is vital to know which product is right for you and your company. Correct use of the device can help grow your business. The information below offers advice based on different room sizes, complete with our top picks for each size room.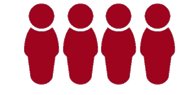 Small rooms
Up to 4 people
Room size (approx.): 12′ × 10′
Approx microphone coverage: 5-7 feet
This room could be a home office or small conference room. The users are close to the microphones. The small size and furniture in the room also limits the chance of echos.
The Polycom Voicestation 300 is a small conference phone perfect for use in smaller rooms. For meetings of up to 4 people.
Polycom Acoustic Clarity technology
3 microphones
Connects to any analogue jack.
Microphone range of up to 7ft away.
The Polycom Soundstation 2 provides professional call quality. For meetings of up to 10 people.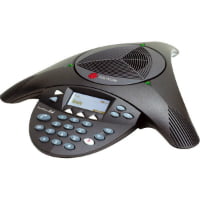 An LCD display and a built-in keypad
Intelligent microphone
The Konftel 220 is the perfect device for offices and small meeting rooms.
---

Medium rooms
Up to 12 people
Room size (approx.): 12′ × 15′
Approx microphone coverage: 10-12 feet
This is a standard conference room or larger office. There are more challenges with this size room. These include; more participants, echo noise and air vents. Expansion microphones are recommended.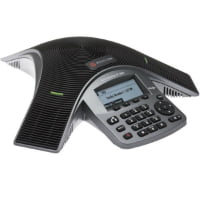 Both compact and stylish, the Polycom is ideal for use in rooms such as offices or meeting rooms. For meetings of up to 6 people.
HD Voice
2m microphone pick-up range
Full Duplex
For meetings of up to 10 people.
A simple, but hi-tech conference phone that also provides crystal clear sound. For meetings of up to 8 people.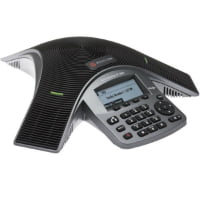 Record meetings
Plug and Play connectivity
Can be expanded with additional microphones
---

Large rooms/Boardrooms
Greater than 12 people
Room size (approx.): 20′ × 15′
Approx microphone coverage: 12 feet + (and additional audio systems)
Expansion microphones are vital so that everyone can be heard. Additionally, other audio systems can be used to improve clarity and sound performance.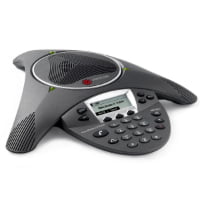 IP conference phone offering high performance with a 12ft (3.65m) microphone pickup.
Polycom HD Voice
Full Duplex
Polycom Acoustic Clarity Tech
A wireless device, for conferencing in rooms of up to 30m².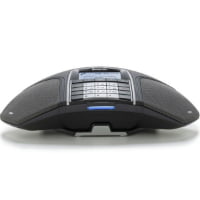 For meetings via DECT, VoIP or mobile connection
Up to 60 hours of talk time
Supports expansion microphones
The MT502 offers a fully-duplex solution.
Onedirect products are the No.1 choice for quality and affordability!
---
NEED EXPERT ADVICE?


Call us with your questions
0333 123 3050