Creating an effective and high quality means of communication, I present to you the Yealink conference phones range. Whether you are looking for a conference phone for mid to large sized rooms, or even for smaller rooms, Yealink caters to all of your needs. Equipped with new and advanced features, this is a staple office piece you would not want to miss out on!
Yealink CP960
Introducing the CP960, the latest conference phone by global communications provider, Yealink. A new neat and simple Y-shaped design ensures you are able to access all functions at hand. Suitable for mid to large sized rooms, the CP960 is perfect for creating clear communications for every day business conferencing.
Perfect for larger conferencing rooms 
Fitted with three microphones with a 360º pickup range, makes it easy for any voice in the room to be heard
A 6m distance range makes this phone perfect for bigger sized conference rooms
Want to achieve greater audio quality? Use an auxiliary cable to simply attach your CP690 to an external loudspeaker, creating magnified sound around the room
Multi way calls
You can enjoy up to 5 way calls with the ´Yealink Pentagon Meeting Room´, creating a physical conferencing experience
Invite or join new parties easily by the touch of a button, causing no disruption to active calls
Eliminates confusion 
Active speaker feature
 An automatic microphone function automatically switches off when the room is silent, and detects when someone is speaking in the room, so you do not have to worry about forgetting to turn the microphone on and off during your conferencing
Noise proof technology cancels out unwanted background noise focusing solely on your conversations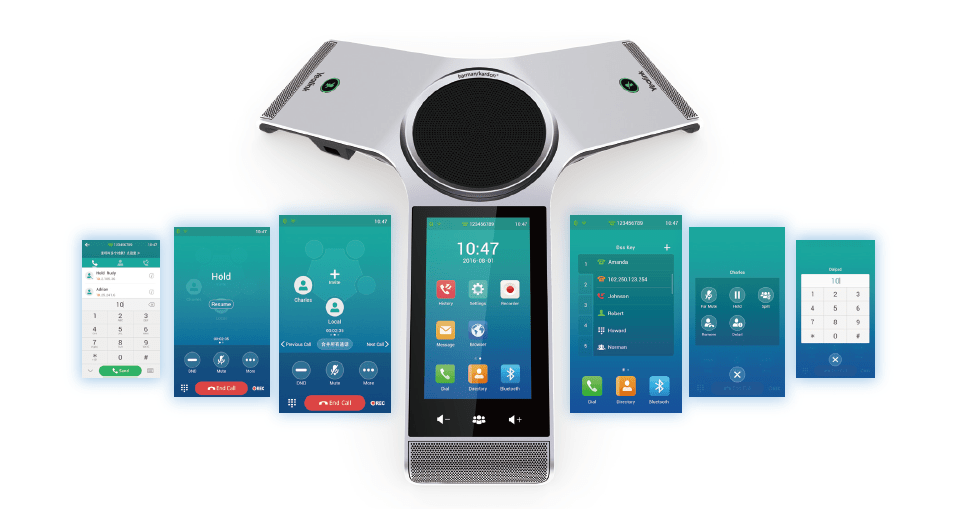 Click here to find out more about the Yealink CP960
Yealink CP920
Presenting the CP920, an IP conference phone by Yealink, designed for small to medium sized conference rooms. Suitable for multi-purpose use, you can use the CP920 if you have a public switched telephone network (PTSN) or for simple use you can pair it with your Smartphone, PC or tablet using the bluetooth feature. Engage in clear business conference experiences with this IP phone.
Exceptional sound quality
With HD audio quality, you can impeccably hear everything in your conference call, any important information will not go unmissed
Ease of use
A stylish Y-Shaped metal body design creates comfort and ease of use for you to quickly make conference calls
Make quick connections with the ´Hybrid UC Meeting´on the Yealink CP920
Connect your conference phone to a mobile, PC or tablet, via Bluetooth or USB and join or create new conferences through merging calls
Enjoy crystal clear conversations
Noise proof technology reduces any annoying background noise and minimizes distractions so that you can participate in clear communication conference calls
Automatic muting microphone feature ensures no background noise is picked up and only your voice, or other voices in the room will be detected
Click here to find out more about the Yealink CP920
NEED EXPERT ADVICE?


Call us with your questions


0333 123 3050