Jabra Speak 710 Review
Introducing the Speak 710, the latest release from renowned technology giants Jabra. This neat speakerphone is aesthetically and structurally superior to any similar device on the market today. It comes equipped with a 360º microphone; therefore, with sound being picked up from all corners of the room, it is the perfect device for conference and business calls.
Additionally, it can also double up as a speaker for leisure use as it can be linked with another Speak 710 to create a powerful surround sound system. The Hi-Fi grade speaker produces remarkable sound quality, be it for a business call or simply your own personal music.
Ease of use

Jabra pride themselves on the simplicity of their products; in line with this, connecting a device to the Speak 710 is incredibly straightforward.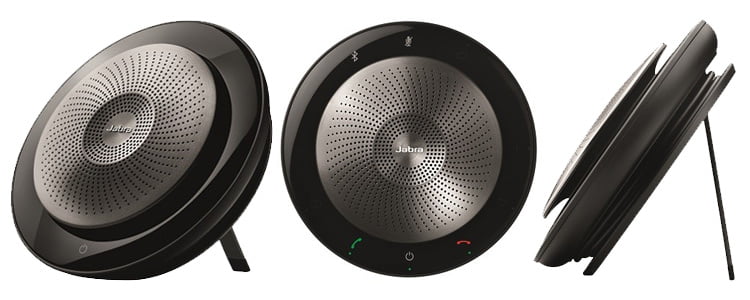 Excellent sound quality
The combination of wideband audio and Digital Signal Processing (DSP) produces a crisp sound which is echo-free even at full volume.
Maximum compatability
The speaker comes with a Jabra Link 370 USB Adapter, allowing you to connect to your PC/softphone apps via Bluetooth. In the interest of business clients, the Speak 710 is fully compatible with UC and VoIP systems. Using Jabra Direct software you can customize your Speak 710 or link up your smartphone through MS Cortana, Siri or Google Now.

Sleek, stylish design
This product is designed with luxury in mind. The black body with the chrome speaker face makes both attractive and discreet. Further to this, its compact design means that it fits easily into even the most cluttered environment. It also comes with a folding stand; you can stand the speaker up for a more prominent sound projection (for small groups) or lay it flat (ideal for large conference rooms).
Verdict
Overall, the Jabra Speak 710 is much more than your average desktop speakerphone. With the accessible features of the Speak 710, the decision is made easy when searching for a new conference solution.
Its high-quality sound and compact design make it the ideal product to use both inside and outside of the office.
Presenting the Jabra Speak 710:
Click below for more info about Jabra's latest release