Jabra Speak 810 Review: Make every conference call count
Boost the performance and quality of your conference calls with the Jabra Speak 810, the latest in the Jabra speakerphone range. Furthermore, it is complete with integrated technology and a great range of additional features. You'll be able to produce and receive crystal clear sound, as well as hear every word loudly and clearly. Learn more about this incredible speakerphone in our Jabra Speak 810 Review below.
Ideal for medium-sized rooms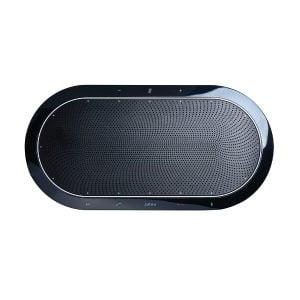 This speakerphone supports up to 15 participants, making it ideal for medium sized rooms. Whether you're having a smaller meeting, or making a major team pitch over conference call, the Jabra 810 will give you an extra sense of freedom. Therefore this makes it perfect for all types of conference meetings.
Omni-directional microphone
The Jabra Speak 810 has 360 degree microphone capability meaning that you can be heard from anywhere in the room. It will pick up sound equally from all directions. This makes it perfect for a conference room of any size.
Integrated Technology
The Jabra ZoomTalk technology filters the human voice from the ambient noise in the room, enhancing the quality of your calls. This is essentially noise cancelling as it eliminates background noise, allowing for an excellent conferencing performance and crystal clear sound quality. It also features digital signal processing (DSP) meaning that even at maximum volume, you'll have clear sound without echo or distortion.
Flexible connectivity
There are numerous connectivity options for the Jabra Speak 810:
Plug & Play – This allows the device to work as soon as you connect it to either your PC, tablet or mobile device.
5mm jack cable – This means it is compatible with all mobile phones and tablets, and its USB cable connects it to any PC.
USB port – This also allows phones and tablets to be charged while you speak.
Bluetooth Class 1 – This allows connection to mobile phones and tablets with a range of up to 30m.
Design
If you are looking for something that has a sleek and sophisticated design, the Speak 810 is an ideal choice. It's simplicity ensures that the device is easy to use for all employees without the need for training. The available buttons on the device that are easily accessible are:
Volume adjustment
Answer call
End call
Mute
Optimised for Skype for Business
The latest version of the Jabra Speak 810 is also optimized for Skype for Business. The MS version is ideal for frequent users of Unified Communications. It allows you to combine multiple connectivity options and integrate with all communication platforms.
Final Verdict
Overall, this product boasts numerous features and capabilities that will allow you to get the most out of your conference communications. It would be a perfect addition to any business ensuring effective communication. If you're still not sure, have a look at how the Jabra Speak 810 could help you, or click the button below to see the range!
---
If you are interested in this product, please visit our website!
NEED EXPERT ADVICE?
Call us with your questions
0333 123 3050