Introducing the Logitech Tap, the touch controller designed to change the conferencing game. With a sleek and well-thought-out design, this controller comes with a 10.1″ intuitive touch screen. Also, it connects to any computer via USB. Simply plug your Logitech Tap into your computer and you are good to go. Therefore, setting up your conferences has never been easier. When connected to a computer, this touch controller can be used for a variety of applications. For example, these include team collaboration, environmental control, digital signage and room automation.
The Logitech Tap supports a wide array of conference room sizes and layouts. When paired with video conferencing room solutions, make the most of advanced yet accessible features. These include calendar integration, one-touch joining and instant content sharing. Independently of the size of your conference room, enjoy a great user experience and unwavering performance every time. Not to mention, this video conferencing tool stands out due to its smart cable management and countless mounting options. What's more, the Logitech Tap is available in different versions: Microsoft Teams, Zoom Rooms and Google Hangouts. In this article, we take a closer look at the Logitech Tap and the respective video conferencing solutions on offer.
Key Features
First things first, the Logitech Tap has a wide array of superb features. Ranging from an intuitive touch screen to anti-theft protection, you have everything you need for seamless conferencing. Here, we outline some of its most important features: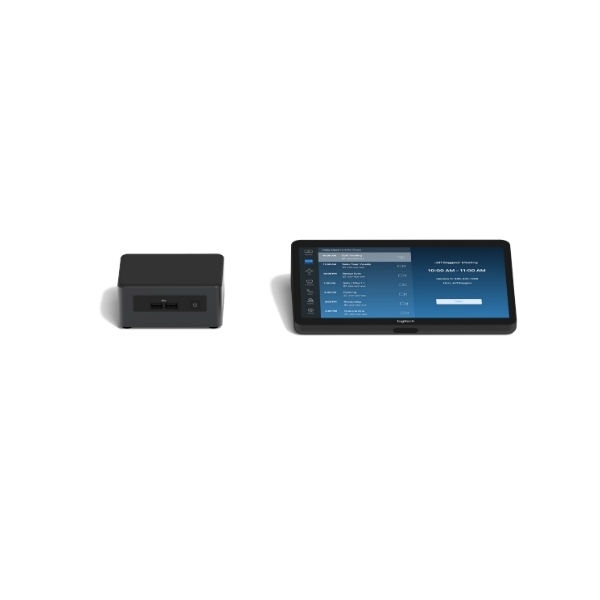 Sleek, fan-free design: a silent enclosure with 14° easy reading angle. This design helps to create more space for cables, connections and retention mechanisms.
Integrated motion sensor: power-saving when not in use and turns on when a participant comes past.
Cable retention: Tap uses an integrated cable retention mechanism. Keep connections tight and cables out of sight.
Headphone jack: take your computer's audio one step further. This feature is ideal for conversations that require greater privacy and for individuals with hearing impairments.
Instant content sharing: thanks to an HDMI input, sharing content will be a walk in the park. Use with Microsoft Teams, Zoom Rooms or Google Hangouts hardware.
Mount as you please: Tap has an integrated 100mm VESA pattern, which is compatible with several third-party mounts and accessories. For greater flexibility, use the optional table, riser and wall mounts. Adapt your controller to your conferencing needs.
In-wall rated cabling: includes a 10-metre strong USB cable. It is plenum-rated and Eca certified for in-wall, above the ceiling, and through conduit cabling.
Kensington lock: keep the device securely in place using the two lock slots. One slot is found on the bottom and another at the back for increased protection against theft.
The Range
When it comes to the solutions within this range, the Tap controller is at the heart of every single one. There is a videoconferencing solution catered towards each room size. Therefore, this means that you can easily select the right solution based on your conference room. More specifically, there are four options for the Logitech Tap bundles – base, small, medium and large. If this wasn´t enough, there are different versions optimised for your preferred hardware. Here at OneDirect, we have Microsoft Teams and Zoom Rooms versions available. Below, we provide an overview of the Logitech Tap products in the range.
Up first, there is the Logitech Tap base. While it is the smallest of the solutions in this range, often simplicity is key. Designed for focus rooms, this product comes with the Logitech Tap controller as well as a mini PC. It is the ideal solution for spontaneous and on-the-spot meetings. With a smaller room, there is less demand for advanced conferencing equipment. Thanks to one-touch participation, turn your room into a Microsoft Teams or Zoom Room in no time. Not to mention, the Logitech Tap base also allows for instant content sharing and seamless cable management. With this touch controller, enjoy greater productivity in a clutter-free conference space.
Why you'll love it:
Wired and wireless content sharing: ultrasonic transmitter and HDMI
Built-in sensor for permanent availability
Integrated cable retention mechanism
Countless mounting option: greater flexibility and optimised cable routing
Logitech strong USB cable: up to 10m away from the computer in the room
Versions available: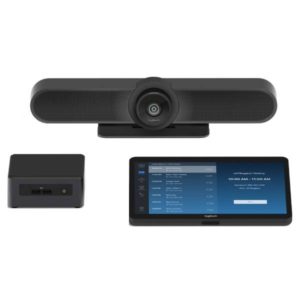 Next up, we have the Logitech Tap solution for small rooms. Designed with small meeting rooms in mind, this solution saves space and reduces cabling. It comes with the Logitech Tap, NUC unit and Logitech MeetUp camera. Thanks to its compact design, the MeetUp camera helps to minimise clutter. Furthermore, it is a small camera that does not compromise on excellent visuals. That is to say, this camera comes with built-in audio and an extra-wide 120º FOV. It can be placed either above or below a display. Not to mention, the camera is equipped with Logitech's market-leading RightSense™ technologies. These technologies enable automatic framing for coverage of all participants as well as absolute clarity. Also, the Logitech Tap can be placed on the table. Alternatively, to save more space, it can be mounted on the wall.
Why you'll love it:
Extra-wide field of view: 120º
5X HD digital zoom
Ultra HD 4K image sensor
3 omnidirectional microphone system
Plug and play connectivity
Versions available: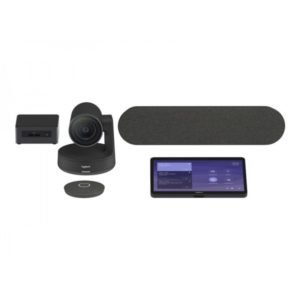 As conference rooms increase in size, larger tables are required and participants sit further away from the camera. With greater demands come great audio and visual capabilities. Due to this, the medium configuration solution includes the following: Logitech Tap, NUC, Logitech Rally camera, a Rally speaker and mic pod. The Logitech Rally is a best-in-class ultra-HD conferencing camera. Featuring a sleek and industrial design, this camera boasts a 4K sensor and 15X HD digital zoom. What's more, the Rally camera uses RightSense™ technologies: RightSound for exceptional clarity; RightSight for automatic framing; RightLight for brilliant visuals independently of the light conditions. Apart from this, participants can enjoy natural-sounding, directional audio. This is because of the front-facing Rally speaker and table mic pod. For crystal-clear audio, the Rally speaker also uses echo cancellation with anti-vibration enclosure.
Why you'll love it:
Ultra HD PTZ camera
4K resolution
15X digital zoom
RightLight™ technology with WDR: balanced images of participants with less glare and softer shadows
Front of room audio
Versions available: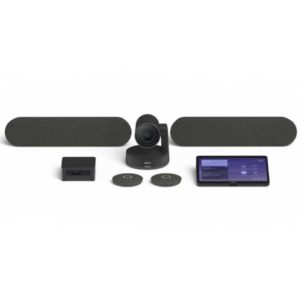 Last on the list, we have the Logitech Tap rooms solutions for large rooms. Likewise to the medium room solution, these solutions also come with the Logitech Tap, NUC and Logitech Rally camera. However, the large room solution upgrades to the Rally Plus, which includes two Rally speakers and two mic pods. The dual mic pods expands coverage for up to 16 participants. For an even greater number of participants, add up to 7 mic pods. In other words, this system is ideal for rooms with up to 46 seats. Larger configurations involve more cables and can mean more clutter. Fortunately, with the Rally Mic Pod Hub, use under-table cable routing for a tidier and more productive conference room. What's more, the Rally Camera comes with a variety of state-of-the-art features. For instance, it uses adaptive PTZ (Pan-Tilt-Zoom), an ultra-HD 4K sensor and RightSense™ technologies.
Why you'll love it: 
15X digital zoom
RightSense™ technologies: automatic person framing, colour-optimisation, and facial brightness
Two rally speakers: a patent-pending suspension system that removes vibrations
Advanced modular audio
2 rally mic pods: increased coverage of participants
Versions available:
---
Want to know more about Zoom Rooms? Read our article on Zoom video conferencing!