Noise-cancelling technology is becoming increasingly popular, but what is it and what benefits does it bring to the professional environment?
What does noise-canceling mean?
Noise-cancelling technology cancels out or reduces unwanted background noise.
When wearing a noise-canceling headset, you will only hear the sounds that you want to hear from your earphones rather than background noise, which is often distracting. Similarly, a noise-canceling microphone will filter out background noise and only deliver the desired vocal sound.
How does it work?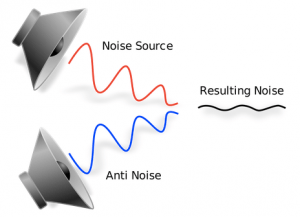 Active noise-canceling technology erases lower-frequency sound waves by mimicking the sound wave, which causes both to cancel each other out. This is different from passive technology which reduces ambient noise by way of design, for example, ear cups that fit closely over the ear.
When do I need it?
Noise-cancelling technology was originally developed for aviation to cancel the noise in helicopter and aircraft cockpits. However, nowadays they're available for everyday use, for example, for people working in call centers, or for hearing protection on construction sites. If your work environment can be noisy, choosing to use noise-canceling headsets can increase productivity, as well as reduce the likelihood of suffering from hearing damage.
Benefits in the office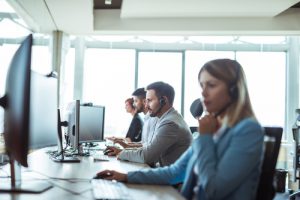 There are several reasons why you should choose noise-canceling technology for your work environment.
It blocks out background noise without you needing to turn up the volume, so there is less of a chance of damage to your ear
The immersive listening experience means better call quality and therefore better customer satisfaction
The "silence" you get with noise-canceling headsets will help you focus and consequently you can be more productive
Types of noise-canceling products
Headsets
Noise-canceling headsets block unwanted background noise. To get the most out of your noise-canceling headsets, we recommend the binaural wearing style.
Microphones
Noise-canceling microphones are designed to filter out unwanted ambient noise from your speech. Almost always a noise-canceling headset includes both a noise-canceling microphone as well as earphones.
Hearing protection
In some industries, employees need heavy-duty hearing protection to protect themselves from damage. Some headsets have built-in hearing protection or helmets, so that not only is the user's hearing and head protected, but they can also communicate using a two-way radio in challenging noisy environments. If you need more information about buying heavy-duty hearing protection to use alongside your telecommunication equipment, have a look at our buying Ear Defenders guide.
---
Our recommendations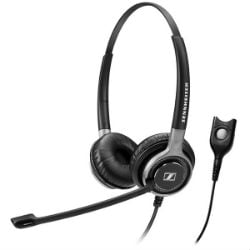 Best-in-class binaural headset
Ultra noise-cancelling microphone and ActiveGard® protection against sudden sound surges
Large leatherette earpads for ultimate concentration
Stainless steel and brushed aluminum for strength and durability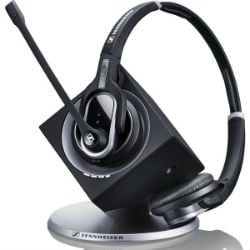 DECT binaural and wideband sound headset
Noise-cancelling microphone and ActiveGard® protection
Up to 12 hours of talk time and 4 days of standby time
Flexible microphone for perfect positioning

DECT duo professional headsets for landlines
Noise-cancelling microphone and SoundGuard® acoustic protection
Stylish magnetic dock with a range of up to 180m
Up to 12 hours in conversation and 13 days on standby
---
If you have any more questions give our team of experts a call at 0333 123 3050. Or visit our website onedirect.co.uk