In a small or medium-sized business, the tradition of working nine to five does not necessarily hold true. A main advantage of being in a smaller business is that you can make decisions quickly and be flexible. Therefore, you need to have access to the right tools to take advantage of this. Read our tools for working on-the-go suggestions and take a step towards becoming a road warrior who works efficiently on-the-go.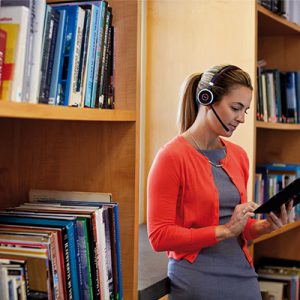 The Jabra Evolve 40 – the perfect tool for working in coffee shops
Flexibility is king in an SME and so you need a flexible device to suit your needs. The Jabra Evolve 40 certainly fits the bill with its multiple device connectivity. Via its USB and 3.5mm jack connections, you can take a call on either your laptop or smartphone. You also won't have to worry about background noise that may comprise your professional image – the Evolve series is equipped with industry-leading passive noise-cancellation and HD Sound. These features ensure that you can hear and be heard so you can communicate effectively with your customers and colleagues alike. This all allows you to stay focused on your calls, wherever they may be, without fear of background noise affecting the image of your company on that crucial call.
The Jabra Motion – the ideal on-the-go solution for commuting
With a Bluetooth headset like the Jabra Motion, you can be sure that you never miss that important call, even when in the car or between meetings. With this headset, you have the flexibility to answer a call whether it comes on your laptop or smartphone. You can also be assured of the quality of your call as the Motion's noise-cancellation combats windy conditions and distracting car noise. This all gives you the confidence to take that important call, even when on the road.
The Jabra Speak 510 – turn any room into your conference room
Since every call you make is a new chance to grow or impress, you need the freedom to take your conference room with you. The Jabra Speak 510 is able to make any conversation a productive conference call, thanks to its easy Bluetooth and USB connectivity. Ever find yourself in need of making a boardroom-like call when away from office? Jabra's emphasis on sound quality means that you can still enjoy and deliver quality conference calls whether you are in your lounge at home or a hotel room mid business trip.
Now that you have the right equipment, how can you make the most of it?
Getting the right tools for working on-the-go effectively is only half the battle. Follow these top tips to maximise your potential:
• Make sure you charge the device so its ready for action – there is nothing more frustrating than a flat battery.
• Pack your power cord and coil them neatly in your bag to avoid clutter
• Before an impromptu conference call, check the internet speed beforehand. Don't risk your image of professionalism and time if it does not work
• Be creative in your spare time. Travelling can be tedious so try and make it as useful as possible by tackling tiny, manageable tasks.
Buy the Jabra Evolve 40, Jabra Motion or the Jabra Speak directly from our website. Call us now for our expert advice 0333 123 3050