Wireless Office Headsets: Top Picks
In the present-day world, office environments are increasingly fast-paced. You may find yourself having to focus on more than one task at the same time. Therefore, it can be difficult not to feel stressed. Rest assured, we have the perfect solution to your problems. Enter wireless headsets. Combining excellent productivity and mobility, every working day will be a breeze. At OneDirect, we have a wide range of wireless headsets. Here, we have compiled a list of our best wireless office headsets. This way, you can choose the ideal wireless headset for a more stress-free day at the office.
Read our recommendations for the best wireless headsets for your office below!
First of all, we have the Plantronics CS540 wireless headset, which is compatible with desk phones. One of our best-sellers, this headset offers a 100-metre range. In addition, the CS540 is compatible with EHS cables and handset lifters. Answer calls remotely and enjoy the freedom of completing other tasks while taking important calls.
Not to mention, this headset offers exceptional sound quality. It uses Plantronics´latest CAT-iq technology and DECT technology for high-quality conversations, free from interruptions from Wi-Fi networks. In addition, the noise-cancelling microphone works to eliminate background noise. Therefore, your client can only hear what's important – you.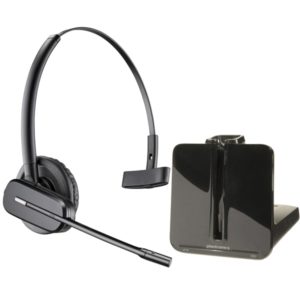 Why you'll love it:
Ultra-lightweight design
Digital Signal Processing for sharp, natural sound
Register up to 4 headsets for conference calls
2 wearing options
Easy use and charging
Secondly, the Sennheiser DW 10 Office Phone is an excellent wireless headset option. Featuring Sennheiser Voice Clarity and a noise-cancelling microphone, speech intelligibility is maximised for both the speaker and listener. Therefore, you won´t miss a word, making every call a productive one. Not to mention, the DW 10 Office Phone maximises office flexibility. It offers a long-distance wireless range of up to 180m with line of sight and 55m in a typical office environment. Thus, whether you are working in an open or closed space office, you are guaranteed excellent flexibility.
Equipped with DECT technology, efficient encryption allows for secure conversations. Furthermore, do not worry about your headset running out of charge. The DW 10 offers 8 hours of wideband and 12 hours of narrowband talk time. What´s more, intelligent fast charging allows you to charge the device up to 50% in just 20 minutes.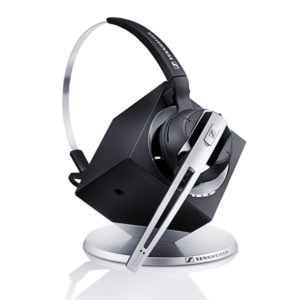 Our list of best wireless office headsets would be incomplete if we didn´t mention our of our bestsellers, the Jabra Evolve 65 UC Stereo PC headset. This Bluetooth binaural wireless PC headset is compatible with VoIP softphones, mobile phones and tablets via USB connectivity. Featuring Bluetooth 3.0, this headset offers up to a 30-metre range from your other devices. Not to mention, using near-field communication (NFC) technology, simply tap your headset and Bluetooth device together to pair them. Besides fantastic ease of use, the headset offers dual connectivity. Your Evolve 65 can be paired both your PC and another portable Bluetooth device at the same time.
Furthermore, the Jabra Evolve 65 comes with exceptional noise-cancelling technologies. Therefore, this leads to improved conversation quality, greater productivity and fewer distractions. With an E-STD standard microphone sensitivity, this headset can be compared to a conventional telephone receiver. As a result, no sound quality is lost. Your communications will be seamless.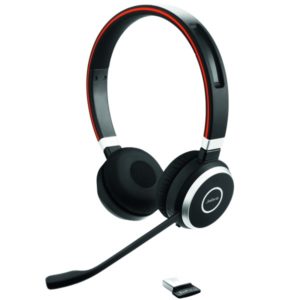 Equipped with a sleek and elegant design, the Plantronics Savi W740 offers triple connectivity for managing your mobile, PC and desk phone calls. What´s more, this headset gives you the flexibility to listen to PC-based audios such as web conferences and multimedia. Not to mention, the Savi W470 is compatible with PC-based telephone software. For instance, this software includes Skype, Microsoft, Avaya and Cisco. Therefore, this headset is an excellent addition to your office.
The Savi W740 also comes with a hot-swappable battery. As a result, you have the option of purchasing an additional battery kit. This way, always have a fully charged battery on hand, which can be changed while using the headset. Why not make the most of having unlimited talk time? Not to mention, this headset has an impressive range of up to 120m. Take and make your calls wherever you are in the office. Furthermore, the headset system automatically updates your status to "busy". As a result, the people you connect with instantly know whether you are available.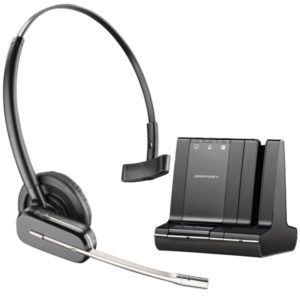 Another of our top recommendations is the Cleyver NW65 UC Wireless Headset. Optimised for Microsoft Skype for Business, this headset is a great office essential. The Cleyver NW65 has compatibility with all softphones on the market, allowing you to call or listen to music on-the-go. Furthermore, it comes with a convenient ON/OFF button. Turn off your headset and save battery for another time, when the headset is not in use.
With up to 10 hours of battery life, do not worry about missing a call. This headset´s battery life makes it ideal for your nine-to-five working day. Furthermore, the Cleyver NW65 comes with an indicator light, which indicates to your colleagues when you´re on a call. Therefore, rest assured that your communications will be free from interruptions.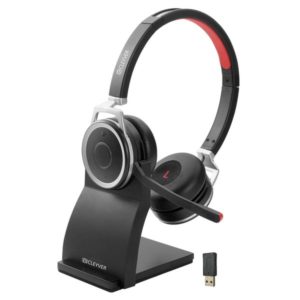 Shop our full range of Wireless Headsets!
Are you still not sure if one of these headsets is right for you? Check out our best 2019 headsets for more recommendations!
Visit our website Onedirect.co.uk today !