VoIP Service Provider: What should you be looking for?
What is VoIP?
Voice over internet protocol or more commonly referred to as VoIP uses the Internet to make cheap reliable telephone or video calls, saving costs whilst getting more features.
The use of VoIP is becoming so widespread that BT, for example, is planning to scrap its traditional POTS by 2025.
Choosing the right VoIP service provider for your business is no easy feat. With more and more businesses choosing VoIP, the number of service providers has skyrocketed. Here at Onedirect, we know that choosing the right VoIP service provider is a big decision, so we have created this comprehensive list of what to look for in order to get you the best possible service!
You will need to check your internet bandwidth depending on how many concurrent calls you hope to make. Your connection speed is measured in Kilobits per second (Kpbs) or Megabits per second (Mbps). The table below gives you an idea of what sort of bandwidth you will need.
| | | |
| --- | --- | --- |
| Number of Concurrent Calls | Minimum Bandwidth | Recommended Speed |
| 1 | 100 Kbps up and down | 3 MBps up and down |
| 3 | 300 Kbps up and down | 3 MBps up and down |
| 5 | 500 Kbps up and down | 3 MBps up and down |
| 10 | 1 MBps up and down | 5-10 MBps up and down |
1. Price
A lot of people look at price as the be all and end all of a VoIP service provider. However, when choosing your provider, price should not be your top priority. The VoIP service industry is extremely competitive, which keeps the prices relatively low. You should consider your specific needs as an individual or a company, and then compare prices.
2. VoIP service
Having a reliable and good quality service should be one of your most important considerations in making your choice. However, keep in mind that your broadband speed can affect the VoIP service quality, so you should check your own connection before blaming the service provider for the poor service.
3. Flexible contract and satisfaction guarantee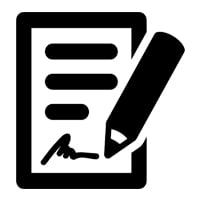 It is important to be able to try the system before you commit yourself. Look for companies which offer flexible contracts with no minimum term. A lot of service providers also offer a satisfaction guarantee, meaning that if you are not happy with the service, you get your money back. Choosing a flexible contract or a company which offers a satisfaction guarantee means that if you decide to change provider after trying it, you can do it without losing money.
4. Service plans
VoIP service plans vary greatly. There are a range of plans aimed at different customers, depending on their needs. Some plans could be aimed at residential customers, while others are for large corporations. Make sure to think about why you need a service provider, and what you are looking to get out of it before you choose which service plan to go for.

5. Customer support
Being able to call on good customer support if you have a technical issue is extremely important. Look for a service provider that offers 24/7 customer support. Even though it might not seem that important, it´s vital that you can get in touch with someone straight away if your system goes down, otherwise you might be left in the lurch with no communications!
6. Additional features
You should also think about what features you will be using on a day-to-day basis. Although this may seem trivial, these features can make a big difference to your efficiency around the office. Features such as call forwarding, caller ID, and call filtering are all very useful, and are usually offered as part of the VoIP service.
A particularly useful additional feature to consider if you are a business is a hosted PBX system. Hosted PBX systems can assist you by creating phone extensions, adding phone numbers, call queues, automatic attendant and routing phone calls.​​  Further benefits can be summarised in the picture below.
Our Recommendation: Megacall
Megacall is a pioneer in the VIOP market, with over 50 real estate offices including property investment businesses as long term clients.
Don´t just take our word for it, illustrated in the table below is Megacall´s costs to call international landlines compared alongside two of the top competitors in the VOIP market.
Comparison table of call cost to international landlines from different VoIP Service providers
| | | | |
| --- | --- | --- | --- |
| | Megacall (£p per minute) | Ringcentral (£p per minute) | Vonage (£p per minute) (exc. 17p CSF*) |
| USA | 1 | 2.5 | 2 |
| Germany | 1.1 | 2.5 | 2 |
| France | 0.7 | 2.5 | 2 |
| Spain | 0.8 | 2.5 | 2 |
| Italy | 1.1 | 2.5 | 2 |
| Ireland | 0.9 | 2.5 | 2 |
| Belgium | 1.8 | 2.5 | 2 |
| Netherlands | 1.3 | 2.5 | 2 |
No contract, no commitment!
Megacall policy is one of complete transparency which means you have full access to call reports and financial status when you want and where you want.
No small print and no binding contracts, only satisfied customers are allowed to belong to the Megacall list of customers.
To learn more about Megacall, or if you want to view their competitively rated tariffs to boost your business click here
---
NEED EXPERT ADVICE?


Call us with your questions
0333 123 3050