Designed to suit the way you work best, we have the Poly CCX video phones series. This series encompasses brand new best-in-class desktop phones, which are both straightforward and intuitive. With the Poly CCX series, enjoy excellent productivity from the get-go. Whether you are an entry-level or executive user, find a desk phone that ticks all of your boxes. Not to mention, personalise your Teams or Skype for Business experience with a headset of your choice. With fantastic flexibility and audio capabilities, the CCX series will revolutionise your office.
---
Key Features
Firstly, let´s take a look at the key features that the CCX range has to offer. The Poly CCX series has been designed with ease of use and productivity in mind. Users can begin working in no time at all. Leave the everyday distractions of your office behind and get down to work.
Outstanding sound quality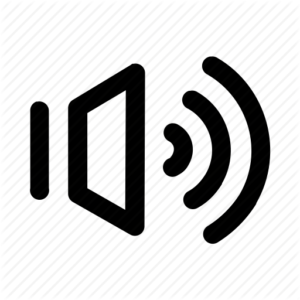 With Poly HD Voice and Acoustic Clarity technologies, each participant will hear and be heard clearly. What´s more, the CCX series also uses market-leading Poly Acoustic Fence. This technology eliminates background noise. Therefore, enjoy crystal-clear communications without interruptions. When you need to focus on more than one task, use the full-duplex speakerphone with echo cancellation. Take important calls while ticking off other tasks on your to-do list.
Fantastic Accessibility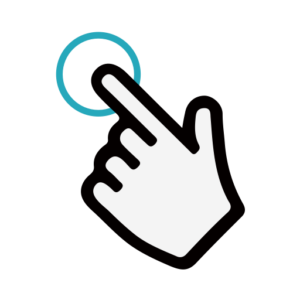 Consistency is at the heart of the CCX series. All of the desk phones provide native Microsoft Teams and/or Skype for Business experience. Thanks to an intuitive LCD display, access your contacts and meetings in no time. With an Android 9.0 operating system, enjoy a powerful performance every time. For more experienced users, the CCX 500 and 600 phones come with a dedicated Teams button. Thanks to well-founded provisioning and management tools, deploying your desk phone will be a breeze.
Adapted for your working style
The CCX range has a variety of different models on offer; some come with handsets while others come without. Whatever your professional requirements, find a desk phone tailored to your working style. Not to mention, these business media phones come with several headset connectivity options. Use the headset of your choice with your desk phone. The CCX series are compatible with the vast majority of Poly headsets and they are easy to install. Take connectivity one step further with Bluetooth and WiFi.
---
CCX Video Phones
Here, we break down the CCX series and look at the products on offer. Besides looking at each of the video phones individually, we also compare them side by side. This way, choosing the right desk phone for your professional needs will be a walk in the park.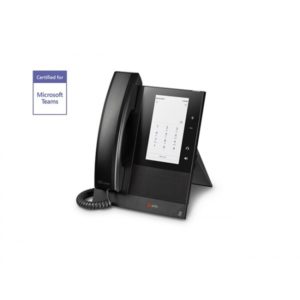 First up, the CCX400 MS Teams is an extremely accessible entry-level business media phone. It features an intuitive 5″ colour LCD screen, making it easy to use and deploy. Bring your Microsoft Teams experience to life. The CCX400 can also be seamlessly deployed using the dial-pad. Thanks to industry-leading Poly HD Voice and Acoustic Clarity technologies, this desk phone provides outstanding sound quality. This way, every conversation counts and no important contributions will be missed. Also, the CCX400 can be wall mounted with an optional mounting bracket. Reduce clutter and save valuable space at your desk. Equally, this desk phone is easy to install on desktops and lobby tables. For media and storage applications, it comes with a USB Type-A port.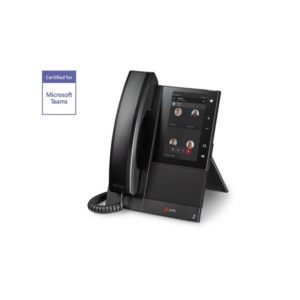 Designed for experienced professionals, the Polycom CCX500 MS Teams features a 5″ multi-touch colour LCD screen but also a dedicated Teams button. Therefore, accessing your contacts and meetings has never been easier. What´s more, the CCX500 also comes with exceptional audio and provisioning capabilities. Spend less time setting up meetings and more time making important calls. Not to mention, the CCX500 MS Teams is also optimised for Microsoft Skype for Business. In turn, it is a welcome addition to any office environment. This business media phone also provides flexible headset options. For example, connect your headset via Bluetooth, USB or an RJ9 port. Be productive in the way that suits you best.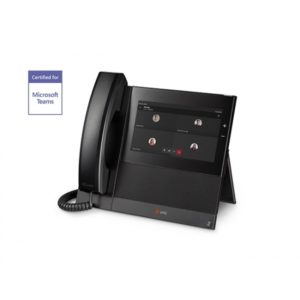 Last but by no means least, we have the Polycom CCX600 MS Teams/Skype for Business. This business video phone is ideal for managers and executives. With a 7″ multi-touch LCD display, enjoy more space to be productive. Also, the CCX600 offers fantastic audio quality as well as a dedicated Microsoft Teams button. Combining both accessibility and quality, this desk phone brings you excellent Microsoft Teams and Skype for Business experiences every time. Not to mention, the CCX600 also enables personalisation of your Teams or Skype experience. Connect your preferred headset via Bluetooth, USB or an RJ9 port. What´s more, this desk phone takes your connectivity options one step further with integrated WiFi. Communicate seamlessly with colleagues and customers alike.
There is also a CCX600 version with no handset available.
---
Enjoyed reading about the Poly CCX video phones? Check out our guide on Yealink Video Phones.
To see our full range of high-quality products, visit OneDirect.co.uk today!