Yealink Video Phones: Bringing audio and video together
When taking and making calls, have you ever wanted to recreate a face-to-face conversation with a colleague or client? This is where video phones come in. Video phones are telephones that come with a video display. They transmit audio and video signals simultaneously for communications in real-time. Therefore, whether you are away for business or working remotely, feel as if you are in the same room as the person on the other end of the line.
When it comes to communications solutions, Yealink is a global leader. They pride themselves on market-leading quality, innovation and user-friendliness. With a specialism in video conferencing and voice communications, their video phones are a range you don´t want to miss. Here, we take a look at Yealink video phones and why they are worth the buy.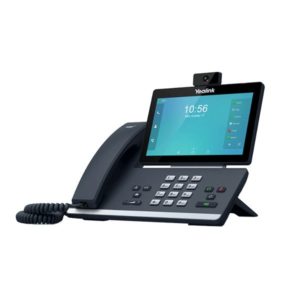 First up, we have the Yealink SIP-T58V. Designed for busy executives and managers, this sophisticated SIP phone has an intuitive 7″ touchscreen. With all telephony features at your fingertips, access is made easy. The camera and screen can also be adjusted to suit the user´s needs. Thanks to Optima HD Voice, the SIP-T58V provides clear-cut sound. Also, Yealink´s Noise Proof technology works to remove background noise. Enjoy immersive and productive conversations every time. Not to mention, this video phone also comes with full HD resolution. See other participants and be seen with absolute clarity. This device is multifunctional as it can be used for business communications as well as door monitoring and unlocking. Preview visitors before answering the phone and make the most of one-touch door open. Both versatile and progressive, SIP-T58V is an excellent choice.
---
Why you´ll love it:
Up to 16 SIP accounts
Video monitoring
1000 contact directory
Seamless integration of 3rd party applications e.g. Skype, Zoom etc.
5-way video and audio conferencing
---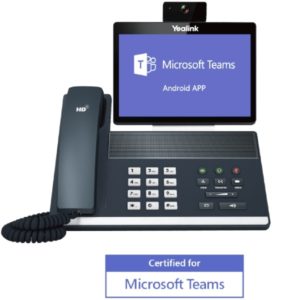 Next, introducing the Yealink VP59, the Android-based video phone that strikes the perfect balance between simplicity and sophistication. This state-of-the-art video phone benefits from the latest Yealink Optimal HD Voice technologies, including Noise Proof and Acoustic Shield. Essentially, these technologies reduce background noise as a means of providing absolute clarity during your calls even in noisy environments. Not to mention, the Yealink VP59 has an 8″ adjustable multi-point touch screen. It is also certified for Microsoft Teams, making collaboration a walk in the park. Take flexibility one step further with a USB headset connection and this phone´s ability to work with Yealink VC Desktop. The latter allows for content sharing from your laptop. Finally, the VP59 also addresses the importance of digital security, Thanks to using SIP over Transport Layer Security (TLS/SSL), data protection is greatly enhanced.
---
Why you´ll love it:
Acoustic Shield technology: multiple microphones to create a virtual shield against background noise
HD 1080p video
Bluetooth and Wi-Fi connectivity
Yealink´s RPS and Boot mechanism for zero-touch provisioning
27 touch keys
---
The Yealink T58V is optimised for Microsoft Skype for Business, making it an excellent addition to any office. This video phone supports up to 16 SIP accounts and provides simple yet secure installation options. What´s more, using SIP protocol means fewer costs compared with using a traditional landline. Not to mention, the T58V also comes with integrated Wi-Fi, Bluetooth and web browser. Enjoy unlimited access to your most frequently used applications. Featuring an ergonomic design, this video phone uses an adjustable 7″ touchscreen interface and camera. Choose the viewing and camera angles that work best for you. Furthermore, make the most of crystal-clear conversations free from interruptions. Also, there is support for Yealink´s Software Development Kit. The kit enables service providers and Yealink to improve integration and develop app features together on the phone. This way, your user experience will go from strength to strength.
---
Why you'll love it: 
Optima HD Voice
CAM50 HD 2 megapixel camera
Configured for Skype for Business
Video monitoring and one-touch door opening
8 function keys
---
---
Enjoy reading about Yealink video phones? For more information on Yealink phones, read our guide on the Yealink T5 range.
To see our full range of excellent IP phones, visit OneDirect today!