With our strong portfolio of providing the best and most suitable devices to event organizers in the past, whether that may be music festivals or sporting events, Onedirect is the hub of top quality walkie talkies suited to every situation. Better organization, tighter security and relaxed environment should be at the forefront of any organizers priorities, which the use of walkie talkies can aptly provide.
Whilst the latest mobile phones on the market are undoubtedly fantastic devices, the walkie talkie is the obvious choice to utilize at events, for a number of reasons.
Noise cancelling technology
First and foremost, noise. Making calls with music blaring all around you is a near-impossible job, we've all been there. However, all radios are equipped with clever noise-cancelling technology, vastly reducing any secondary noise, so you will be heard clearly.
Strong coverage
Secondly, the signal can be an issue with the regular mobile; on the other hand, with the powerful UHF radios available on our website, the signal won't be an issue. Loss of signal can result in serious problems for event organizers, security and other members of staff, something any company cannot afford. The strong, reliable signals must be able to scope across large areas and penetrate through objects such as tents, metal structures and stages.
Therefore, we have compiled a small list, in no particular order, of our favourite radios for outdoor events for 2019.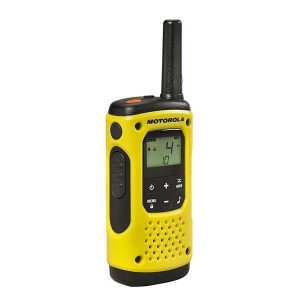 The standard PMR446, present in the Motorola TLKR T92 H2O, is compatible with all PMR446 walkie-talkies on the market, and allows you to communicate between 2 radios with a range of up to 10km. Designed for extreme situations; the T92 is completely waterproof and submersible. The radio meets the IP67 standards, withstanding submersions of up to 1m for 30 minutes. It has an integrated LED torch with two colours, white and bright red, which is activated automatically upon contact with water. Extremely useful for professionals who work at night. The T92 two-way radio is able to withstand intensive use, both indoors and outdoors.
Why you'll love it:
LED torch
Up to 16 hours of battery life
Dedicated orange emergency button
Hands-free VOX
The XT420 offers great performance and substantial durability. The Motorola XT420 is recognized as one of the best starting solutions for businesses. The built in 1500mW loudspeaker is one of the best features of this radio. The radio ensures that you will be heard more clearly, thanks to its wind-noise reduction technology. It is ideal for markets & shops, smaller hospitality venues or smaller schools, where louder environments and frequent shift changes are in place. The XT420 protects you from dust, water and boasts an impressive IP55 rating. Interestingly, this device comes with an antimicrobial coating on the surface of the radio, therefore leaving you free from the risk of bacterial build-up and germ growth.
Why you'll love it:
Up to 20 hours of battery life
Licence Free Non-Display radio
Antimicrobial coating
Battery saving capabilities
Motorola T82 Extreme
Thanks to its IPX4 certification, the T82 Extreme is water resistant, which guarantees greater durability and use in more extreme environments. It has a hidden screen that will illuminate when necessary to help users navigate, and its LED flashlight will ensure greater visibility in low-light environments or at night. The Motorola T82Ex transmits in PMR446 frequency, so this model is compatible with other walkie-talkies that operate on the same frequency. To conclude, its design and technical features make it essential for use in different professional fields, such as hotels, receptions, security, restaurants, large areas, or airports.
Why you'll love it:
Up to 18 hours of battery life
PMR446: free use without license
Hidden screen display
Built in torch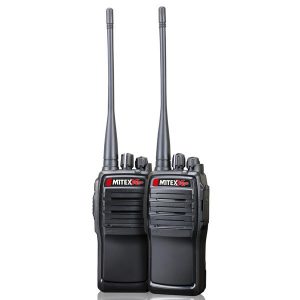 The Mitex General Xtreme is resistant to vibrations, dust and water, meaning it perfect for environments exposed to the elements.  Add to this its compact design, excellent technical specifications and IP66 rating, and you´ve got a two-way radio with our unequivocal seal of approval.
Why you'll love it:
IP66 rating
Compatible with Pro and DMR models
5 watt rechargeable batteries
Licensed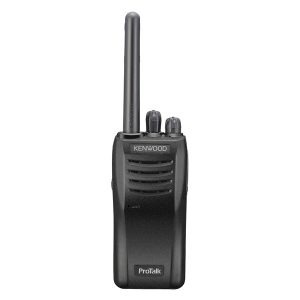 Relative to its predecessor, the TK-3301, the Kenwood TK-3501 offers new and impressive range abilities while maintaining a simple design. In addition, its lightweight build ensures that it won´t be tugging on you as you go about your day-to-day business. Ultimately, this radio will deliver the license-free, compact, user-friendly experience you´re looking for. Channels can be easily programmed by the user and there is no need for any additional software. Thanks to its powerful BTL amplifier communication and its VOX feature, communication is always crisp and clear.
Why you'll love it:
Built-in VOX hands-free
16 channels
PMR446 license-free
9km range
Onedirect products are the No.1 choice for quality and affordability!
---
NEED EXPERT ADVICE?


Call us with your questions
0333 123 3050