An increasing number of businesses and industries are ditching the smartphone in favour of the two-way radio. The key advantage of using two-way radios is because they provide instant communication with up to several people at once, with the simple press of a button. This is considerably easier than having to phone people individually.
Hytera is one of the leading global providers of professional two-way radios. Hytera two way radio devices are built with innovative research and development, therefore they´re designed to last and perform.   Check out some of the devices we have selected from our product range below, and see what all the buzz is about.
The first two-way device we´ve picked is a basic model. Perfect for working environments such as the hospitality or manufacturing industry. The PD505LF is built to impress, with its feather-light efficient design, good functionality and impressive price tag.
Hybrid analogue and digital communication function:
The following radio is built to the digital mobile radio (DMR) standards and offers both digital and analogue line communication. Simple encryption in analogue mode, and a scrambler function in digital mode. This ensures maximum security for the user.
Great for time efficiency:
Other impressive features for this device are pre-recorded text messages up to 256 characters long, and adaptable voice calls.  Therefore, this is great for those instances where you want a time efficient way of getting your message across e.g. letting your colleagues know you´re heading for your break.
It´s tough as nails:
Hytera devices are built to last. This walkie talkie is built to IP54 standards. This means it has limited protection against dust, whilst being able to handle light water splashes. As a result, you can work outdoors whilst prioritising the important things at work.
Other Things you´ll love:
1500mAh battery, giving you up to 16 hours of usage.
Programmable buttons
Individual calls, group calls, and broadcast calls on digital channels.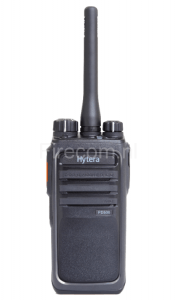 Another basic but good value for money product from the Hytera range we´ve picked is the TC-320.  With impeccable sound quality, efficient battery life, and tough protection. This walkie talkie is ideal for places such as building sites.
Always be heard, never be disturbed:
The Hytera Tc320 is equipped with an audio compander. This ensures clear quality communication, even in those noisy environments. The Busy channel lockout (BCL) feature prevents the device's signals transmitting to any busy channels. Meaning that you can communicate in your professional environment undisturbed.
A battery that is built to last:
The TC-320 16 hour battery life will let you power through the day. If you´re particularly conscious about the battery running out, perhaps due to a long working day, a very clever tool is the integrated auto battery setting. The battery consumption will automatically be lowered after long periods of inactivity
For many people, a typical day on the job involves working from great heights. The TC-320 takes this into account. The tough and rugged casing means it is able to survive drops up to 1.5m.
Other things you´ll love:
Hands-free operation
Battery strength indicator
Pc Programmable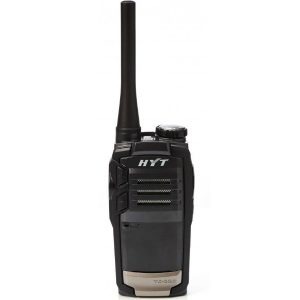 Now, onto the featured high tech gadget. The PNC370 is a revolutionary product using push-to-talk over Cellular technology. Indeed, through the push to talk button, it is able to operate as both a walkie talkie and as a mobile phone.  In short, this device is a great asset for professionals who want to enhance their communication with each other.
Easily call anyone, no matter how near or far:
The PNC370 works with a sim card meaning that you´re able to communicate over 3g, 4g or Wi-Fi. A great advantage of this is that you can communicate with several people at once, with the press of a button, regardless of if they´re locally or internationally based. This tackles the problem of having to make several different phone calls just to get a simple message across.
Fit in with each other's busy schedule:
A notable feature is the real-time "availability tool". This lets you check the live status of contacts on your walkie talkie to quickly check if they are online or offline.  This can help you avoid those awkward professional scenarios, such as calling someone whilst they are busy in a meeting.
Talk while you walk:
If you want to communicate whilst maintaining efficiency at work, help is at hand. The PNC370 has built-in Bluetooth feature, which supports a wireless connection to bt audio accessories.
Other things you´ll love:
Gps positioning
LED Torch
Support for Android apps
Real-time clock for international countries.
If you´re looking for a cost effective, long lasting two-way radio, you´re in for a treat.
A battery guaranteed to outlast your shift:
The Hytera TC446S battery life is one of the best in the market. The device equipped with a 1650mAh can operate for a whopping 24 hours without needing charge.  In addition, there´s a self-activating energy saving feature which autmoatically activates after 10 seconds on inactivity.
Tough yet easy to carry:
The lightweight, yet tough material of the TC446S means it´s portable and can survive just about any harsh conditions it has thrown at it. Perfect for any working environment.
CTCSS/CDCSS signalling:
Whatever sort of call you need to make in the professional environment, the TC466S will deliver.  The device has 38 different CTCSS and 61 different CDCSS sub-audio tones.  These will help you deliver a quick and user-friendly direct call, group call and remote control.
Other Things you´ll love:
Enhanced voice quality.
Cloning function to easily transfer settings to another radio
Selectable squelch levels.
Our final featured product is the TC320. This device offers many functions, combined with its attractive ergonomic design.
Get a grip:
The ultra-strong casing, made of double injection moulding and anti-slip surface can survive drops of up to 1.5 metres.  Thus, the TC320 is is suitable for places where you work high up from the ground such as warehouses
Pc programmable
This function enables users to program the radio's frequency and other function settings without disassembling it. The micro USB facilitates easy charge and programming for the device.
Other things you´ll love:
Exceptionally clear audio
16 channels
Autoscan
Busy channel lockout (BCL) and time out timer (TOT)
If you work in a particularly challenging environment requiring a longer range of communication, you may want to consider purchasing a Hytera licensed walkie talkie.  The Hytera PD755 walkie-talkies range are hybrid,  working in both digital and analog mode. their user – friendly design, coupled with advanced communication features, makes this a great tool for business use.
The four products in the range are shown below and their main features are differentiated by a product box.
| | |
| --- | --- |
| Feature | Does it have it? |
| VHF (Very high frequency) | ✓ |
| UHF (Ultra high frequency) | ✖ |
| IP67 rated? | ✓ |
| Hybrid: analogue and digital | ✓ |
| GPS feature | ✖ |
| Push to talk button | ✓ |
| Scan function | ✓ |
| LCD screen+keyboard | ✓ |
| | |
| --- | --- |
| Feature | Does it have it? |
| VHF (Very high frequency) | ✖ |
| UHF (Ultra high frequency) | ✓ |
| IP67 rated? | ✓ |
| Hybrid: analogue and digital | ✓ |
| GPS feature | ✖ |
| Push to talk button | ✓ |
| Scan function | ✓ |
| LCD screen+keyboard | ✓ |
| | |
| --- | --- |
| Feature | Does it have it? |
| VHF (Very high frequency) | ✖ |
| UHF (Ultra high frequency) | ✓ |
| IP67 rated? | ✓ |
| Hybrid: analogue and digital | ✓ |
| GPS feature | ✓ |
| Push to talk button | ✓ |
| Scan function | ✓ |
| LCD screen+keyboard | ✓ |
| | |
| --- | --- |
| Feature | Does it have it? |
| VHF (Very high frequency) | ✓ |
| UHF (Ultra high frequency) | ✖ |
| IP67 rated? | ✓ |
| Hybrid: analogue and digital | ✓ |
| GPS feature | ✓ |
| Push to talk button | ✓ |
| Scan function | ✓ |
| LCD screen+keyboard | ✓ |