Best Rugged Mobile Phones for your construction business
In the construction industry, communication is essential. Thanks to a range of high-quality tough phones for construction on the market, cost-effective solutions are right at your fingertips. Below, we have selected our top 5 best rugged mobile phones for construction. These phones are perfect for communication while withstanding the demands of the construction industry.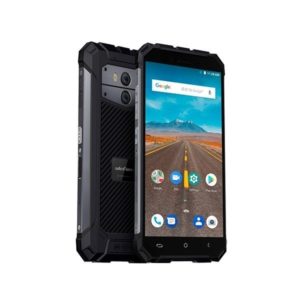 First things first, we have the Ulefone Armor X. Operating on an Android 8.1 system, this rugged smartphone is perfect for construction sites, farms and the extreme outdoors. Furthermore, it boasts an outstanding IP68 rating. This means that it can withstand submersion of up to 1.5 metres for up to 1.5 hours. Not to mention, it can operate in extreme temperatures, as well as being ice and fireproof. Built to last, this rugged phone also comes with facial recognition and fingerprint access. Thanks to its 5.5″ screen, use your phone comfortably with one hand. This way, you can use your phone while completing other tasks at hand.
What´s more, the Armor X uses the new MTK6739 quad-core CPU processor. This provides a powerful and efficient user experience every time. Besides a quick processor, Armor X has 2GB RAM, allowing you to multitask, watch movies and play games without slowing down your phone. Equipped with 16GB internal storage and 256GB expandable storage, you have space for everything you need. If this wasn´t enough, this smartphone comes with a huge 5500 mAh battery. Enjoy 20 hours of autonomy on a single charge. Even when working remotely, don´t worry about your battery life affecting your productivity.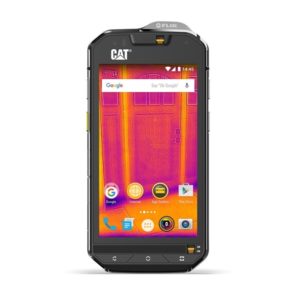 The next phone in our list of best rugged phone for construction is the Caterpillar CAT S60 is an evolutionary tough smartphone with an IP68 rating. The new device from CAT offers a number of standout features that set it apart from existing phones on the smartphone market. Firstly, it is fitted with a thermal camera designed by FLIR, the world leader in thermal image technology. What´s more, the CAT S60 is water-resistant. It can be submerged in up to 5 metres of water for one hour, with the 13MP camera still functioning underwater. Even in wet conditions, capture high-quality images and videos.
Not only is the S60 a sophisticated smartphone, but it is also extremely resilient. Equipped with a military rating of 810G, it can be dropped from a height of 1.8m. Furthermore, this device is fitted Gorilla Glass 4, a durable tough glass designed to withstand drops, dust and water submersion. The screen brightness and contrast can also be adjusted to provide greater visibility in broad daylight. Combining durability with modern smartphone functionalities, the CAT S60 is an excellent option.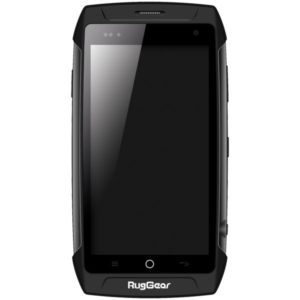 Next up, we have the RugGear RG730 4G Robust smartphone. It is a powerful, water and dust resistant 4G Android smartphone with military standard toughness. Boasting IP68 water resistance, this sturdy smartphone is waterproof for 30 minutes in up to 2 metres deep water, as well as being protected against dust ingress. Its screen is made of Gorilla Glass 3, so it will withstand even the strongest of knocks, including drops from up to 2 metres. Extreme environments should not cause this mobile any problems either, given its impressive operation range from -20°c to 60°c. The evident robustness of this phone is certified by an 810G Military Standard rating, meaning that it has passed tests in extreme temperatures, barometric pressure, chemicals and vibration.
Furthermore, the RG730 is just as functional as it is robust. Android 5.0 Lollipop provides a slick operating system and access to the Google Play store, where you will find an array of useful apps to use on your device. Bluetooth, WiFi and NFC connectivity further boost your options in terms of wirelessly connecting the RG730 to other devices and networks. What´s more, with QI standard wireless charging, even charging can be done wirelessly. Finally, the expandable 64GB memory capacity will help you to make the most of the 13 MP rear and 5 MP front cameras. You will always have enough space for your photos and videos. If this wasn´t enough, the RG730 comes with an amplified loudspeaker for clear-cut communications, whatever the weather. The PTT button also provides the option of this smartphone being used like a two-way radio.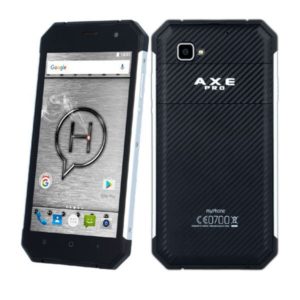 Designed to last in tough conditions, the myPhone Hammer AXE PRO features a durable cover, waterproof sockets and a display reinforced with Gorilla Glass 3. Equipped with a sturdy yet sleek design, this smartphone benefits from a stunning 5.5″ display with 1920 x 1080 px resolution. Thanks to the in-phone switching system, enjoy bright and vivid colours, as well as perfect viewing angles. Also, the display has two different coatings, meaning that you can use your phone while wearing gloves, or with wet hands. What´s more, the AXE PRO boasts a very efficient 2GHz processor and supports 4GB RAM. Therefore, your phone will operate smoothly and you can work productively. With 64GB of internal storage, store all of your most important data so that you can use it on the go.
Additionally, the Android 6.0 Marshmallow also gives you unique efficiency, reduces energy waste and provides access to a great selection of games and apps to personalise your device. Equipped with a dual-sim functionality, stay connected with easy connection to Bluetooth 4.0, Wi-Fi, NFC and LTE network. If you ever end up in trouble, GPS pinpoints your location and the integrated SOS button lets you instantly call for assistance. Furthermore, the powerful 5000mAh battery means you don´t have to worry about running out of power. Enjoy 30 hours of talk time, as well as an built-in express charging feature. In turn, this allows you to charge your smartphone quickly if you are in a rush. Use the AXE Pro as a power bank to charge your other devices. In turn, this smartphone will not let you down when on-the-go and will not hinder your productivity.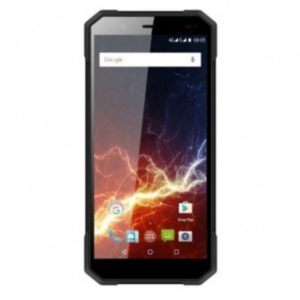 Last but by no means least, on our list of the best rugged mobile phones for construction, we have the myPhone Hammer Energy 18X9 is one of our favourites. A rugged and robust smartphone with an IP68 rating, this phone is dustproof and can be immersed in water up to 3 metres. Therefore, it meets the often demanding conditions of the construction industry. Featuring a powerful 5000 mAh battery, you are guaranteed many hours of autonomy, even when using several applications at the same time. Not to mention, the Hammer Energy 18X9 comes with an LTE coverage system, meaning that internet access can be reached anywhere. Independently of where you are, stay connected with colleagues and customers alike. Furthermore, this smartphone uses dual-sim functionality. Ideal for a good work-life balance, separate your work life from your personal one while still using the same telephone number!
What´s more, the 18X9 boasts a 5.7″ HD + IPS screen that is reinforced with Gorilla Glass 3. Combining good visuals and extraordinary strength, use your mobile phone in all circumstances without worrying about damage. Furthermore, it comes with a special rubber frame to increase safety. The main camera has a resolution of 13 MP while the secondary one has 8MP. In turn, capture high-quality pictures and videos every step of the way. Also, the Hammer Energy 18X9 has a fingerprint reader, which helps to improve accessibility. As a result, this smartphone is a welcome addition to any construction company, as it is both robust and uses advanced features.
To see our full range of best rugged mobile phones for construction, click here.
For more information on rugged phones, see our how to choose guide.