What are tough mobile phones?
Tough mobile phones are great for all-purpose use. In comparison with standard, mainstream mobile phones that can often break, crack or be damaged easily, tough or rugged mobile phones have an added protection against dust, certain/extreme temperatures, shock and water. Features such as IP rating, military standards, durability and other characteristics ensure that they stand out from normal mobile phones.  These mobile phones either come from mainstream brands or more specialist brands to suit every preference and need. Below is a guide for what to look for if you are considering buying this type of device.
Do I need to buy one?
Environment is a huge factor when deciding if you need to buy a tough mobile phone. If the phone will be under harsh conditions, such as areas with water and a high level of dust and noise, this type of device is an ideal product to suit your needs. Workers in construction, plumbing, engineering or similar areas are most likely to need a rugged mobile phone. People who participate regularly in outdoor activities can also benefit from having a device which can withstand a high level of shock, dust and water.
Although this is particularly beneficial for people that work in areas such as construction or regularly participate in outdoor activities, it can benefit everyone. If you would like a mobile phone that does not shatter or break easily, the tough mobile phone is a perfect solution.
IP rating
The IP rating stands for Ingress Protections rating. This is a measure of the degree of protection that a device can provide. IP ratings contain two different measures. The first relates to the protection against solids and the second, to the protection against water. Below is an illustration of how the IP rating system works.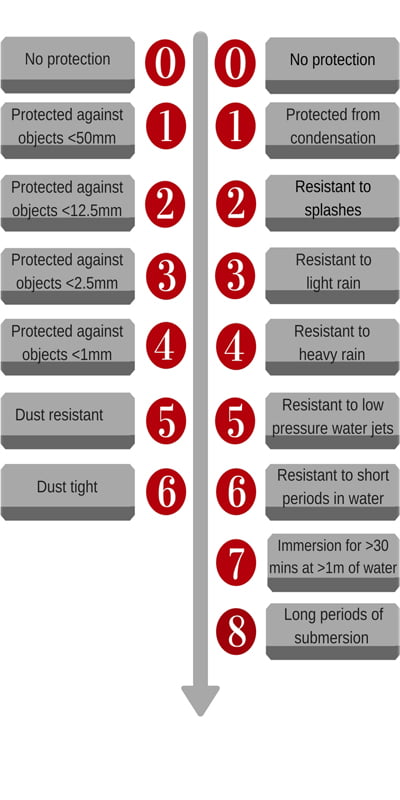 For more information about IP ratings, please have a look at our "IP rating explained blog."
Durability and strength 
Tough mobile phones are built to resist shock and damage. Therefore, they are the perfect product if you are working in areas that may require this extra protection or simply if you want the added security of a stronger and more durable device.
They can vary in strength, depending on its exterior. Some contain metal alloys and rubber bumpers to protect against shocks, and others contain Gorilla Glass, designed to be resistant against damages, such as scratches and impact.
Military standard
Many tough phones have military standard certificates. These mean that the phone has been tested against certain conditions and has passed. The most common certificate is the MIL-STD 810G. Examples of types of tests conducted include against wind-blown rain and dust, and drops onto hard surfaces from specific heights.
Additional features
Battery life: They have a longer battery life than standard mobile phones. This means that they will be able to withstand long times without being charged and therefore, they are more reliable.
Internet: With some tough mobile phones, you will be able to browse the internet, keep up-to-date with emails and anything else
Touch screen: If you would like a durable, strong mobile phone that is similar to the mainstream brands, a tough mobile phone with a touch screen is an ideal product. These are sleek and stylish but also provide you with extra protection.
Camera: Tough mobile phones with front and rear cameras are available to suit your needs and preferences.
Tough Mobile Phone Recommendations 
Rating IP68 : Resistant to dust and temporary water immersion
Submersible up to 1.5 metres for up to 30 minutes
Bluetooth 2.1
RugGear RG100 Tough Mobile Phone
IP68 resistance to dust and water ingress
Mil-Standard 810 C/D/E/F/G compliant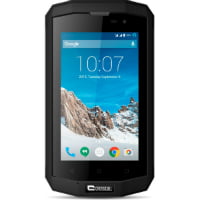 IP67 water and dust resistance
4 inch touchscreen which works even when wet
Fast 4G internet connection
---
For more information, please visit our website
NEED EXPERT ADVICE?
Call us with your questions
0333 123 3050